I have been working on a coconut bulgur pudding for longer than I'd like to admit. I wanted something similar to a rice pudding, but I liked the idea of having a little nuttiness and chew to it, so I focused my attention on bulgur. I did a post on this recipe back in April 2013. While it was a decent dish at that time, I didn't have a good recipe with recorded measurements, and it took a lot of tweaking to get it right. I could never quite get the consistency of the bulgur and the cream base just right, so I had tabled it.
This week I found some old notes I had made on this, and wanted to put them in my notebook, even though I wasn't sure it would work. I just happened to be writing these notes on the same page as the ratios for the Ramenized Risotto from ideas in food. You should really go through those posts, but the general idea is that you prehydrate your starch (rice, pasta, etc) in water with 1% baking soda and .5% salt for 90 minutes or so, depending on the specific starch. It makes for very quick cooking (3 minute risotto). So, I made the leap assuming that this would work for bulgur. I should be able to cook it directly in seasoned, sweetened coconut milk in a fraction of the time. No surprise, it worked like a charm. Big thanks to Alex & Aki for providing the breakthrough I needed.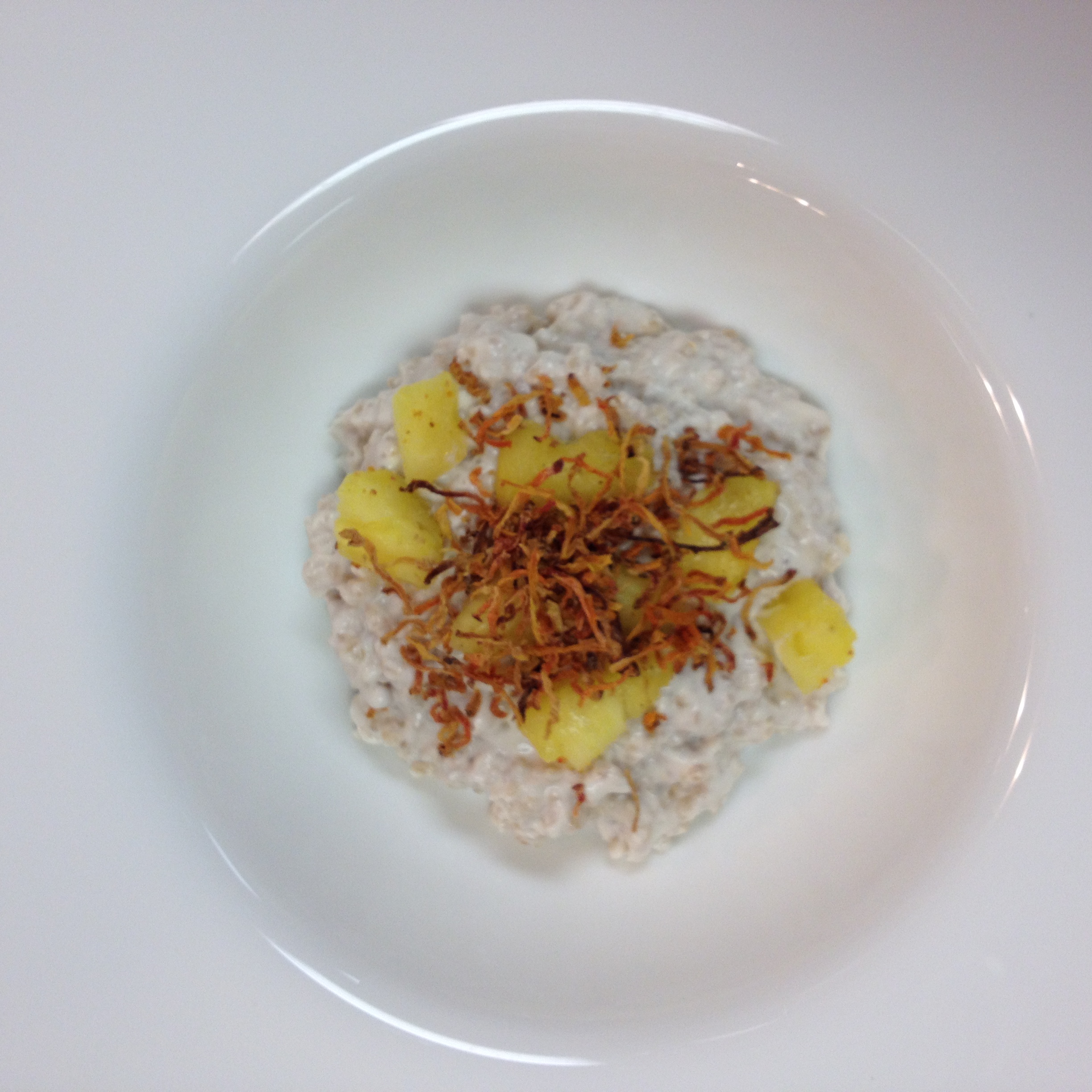 Coconut & Black Cardamom Bulgur Pudding
Coconut Milk 390 g (1 14 oz can)
Vanilla Extract 2 g
Light Brown Sugar 50 g
Black Cardamom Pods 2 each/2.5 g
Sea Salt pinch
Bulgur 40 g
Water (16.9 fl oz bottle), baking soda (5 g) & sea salt (2.5 g) for bulgur soak

Take uncooked bulgur and put it in a container. Weigh water. Add, by weight, 1% baking soda and .5% sea salt. Stir to dissolve. Pour over bulgur and soak for 90 minutes.
Drain and rinse the bulgur. Pat dry and weigh. It should be close to 100 grams. Place in a small pot.
Mix coconut milk, vanilla, sugar cardamom (pods cracked open) and salt. Heat on the stove until it begins to boil. Remove from heat, cover and steep for 10 minutes. Strain, pushing on cardamom.
The liquid will be a little over 400 grams (which is close to 4 times the amount of hydrated bulgur). Combine with the bulgur. Bring to a simmer and continue to cook for about 5 minutes. It will still have a lot of liquid. As it cools, most will be absorbed into the bulgur.
Cool under refrigeration, preferably overnight. Top with whatever you want. My favorite way to serve it is with applewood-smoked pineapple, candied carrot & carrot salt.
If you like what you see, please consider hiring me for an in-home dinner or cooking lesson. I run a personal chef business based out of Frederick, MD. Get more information here. Thank you.
Chris Spear
Like my Facebook page
Follow me on Twitter
Check out my Instagram
Watch me on Youtube