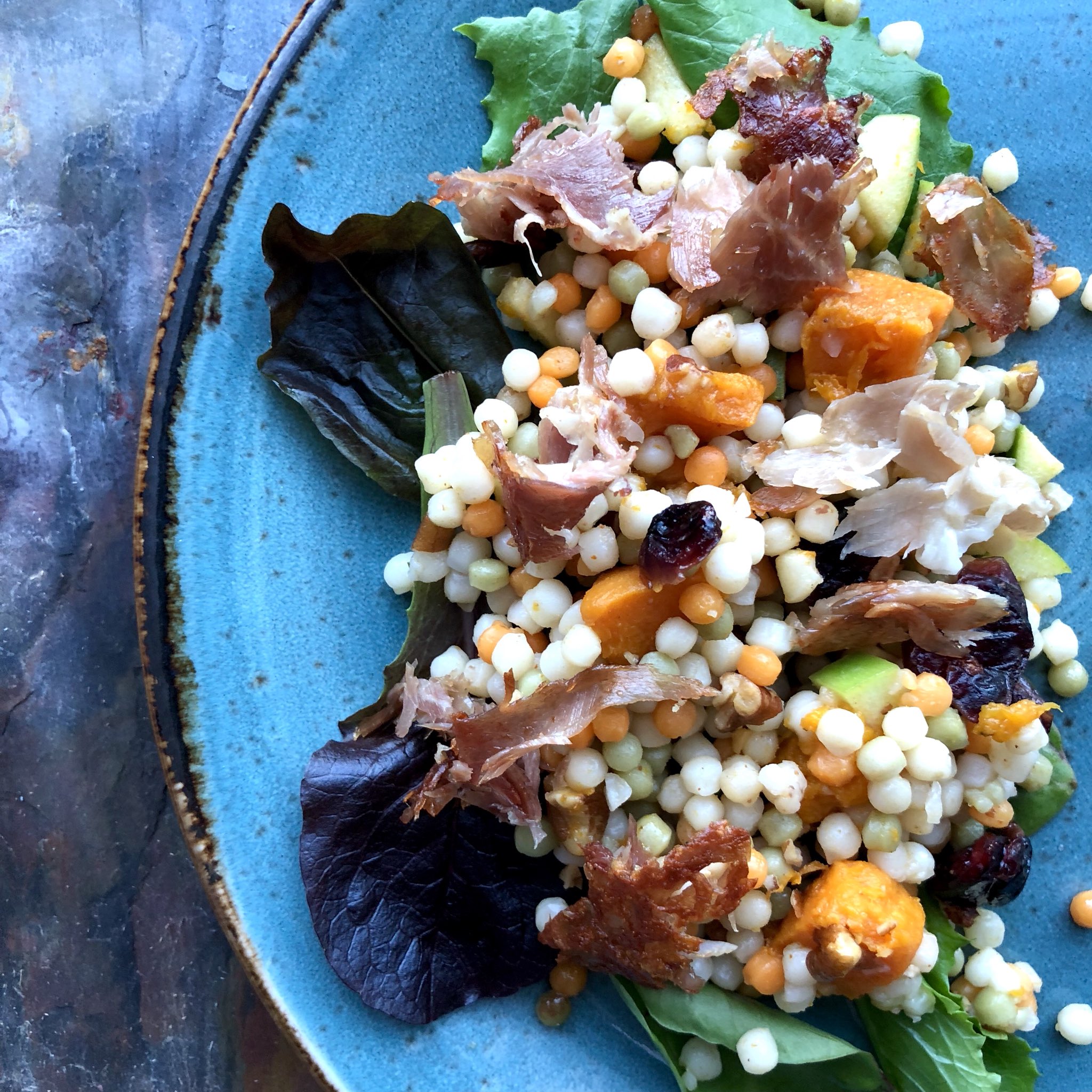 I recently cooked for an event at Olde Mother Brewing in Frederick, MD. You might have seen my recipe for Porter Beer Truffles. One of the other dishes I served was an Israeli Cous Cous Salad with Edward's Country Ham, Maple/Berbere Butternut Squash, Apples, Pecans, Dried Cherries & Cranberries and Harvest Gose Vinaigrette.
Olde Mother recently made their gose with cranberries, apples and winter spice. I knew I wanted to use the beer in a recipe, so I started there, trying to figure out what to make. If you've never had a gose, it's a tart beer that's low in alcohol, and often a little bit salty. The first idea that came to me was to make a vinaigrette. The sour beer seemed like it would be a perfect replacement for vinegar. I usually use raw honey in my vinaigrettes, but opted for maple syrup this time.
I don't have a recipe for the salad. I boiled the cous cous in water until it was slightly al dente, and rinsed it under cool water. Then I tossed all the ingredients together. I like to heat the country ham in a frying pan and put it on the top so that it has a slight crispiness. Let me know what your favorite beer recipe is.
Gose Beer Vinaigrette (Goserette)
6 oz Gose Style Beer (I used Olde Mother Brewing's Harvest Gose)
1 T Minced Shallot
Zest from ½ an Orange
1 T Maple Syrup (I prefer Grade B/dark amber)
1 T + 1 tsp Pomegranate Molasses
1/2 tsp Kosher Salt
½ cup Olive Oil
Put all items into a blender except for the oil. Start the blender on low, and then gradually increase the speed to medium. Slowly pour the oil through the opening of the blender. Put the lid on the blender and increase the speed to high. Mix for a minute. This should keep the vinaigrette relatively emulsified.
You can also whisk the ingredients together in a bowl. You'll need to whisk it together right before using.
If you like what you see, please consider hiring me for an in-home dinner or cooking lesson. I run a personal chef business based out of Frederick, MD. Get more information here. Thank you.
Like my Facebook page
Follow me on Twitter
Check out my Instagram
Watch me on Youtube