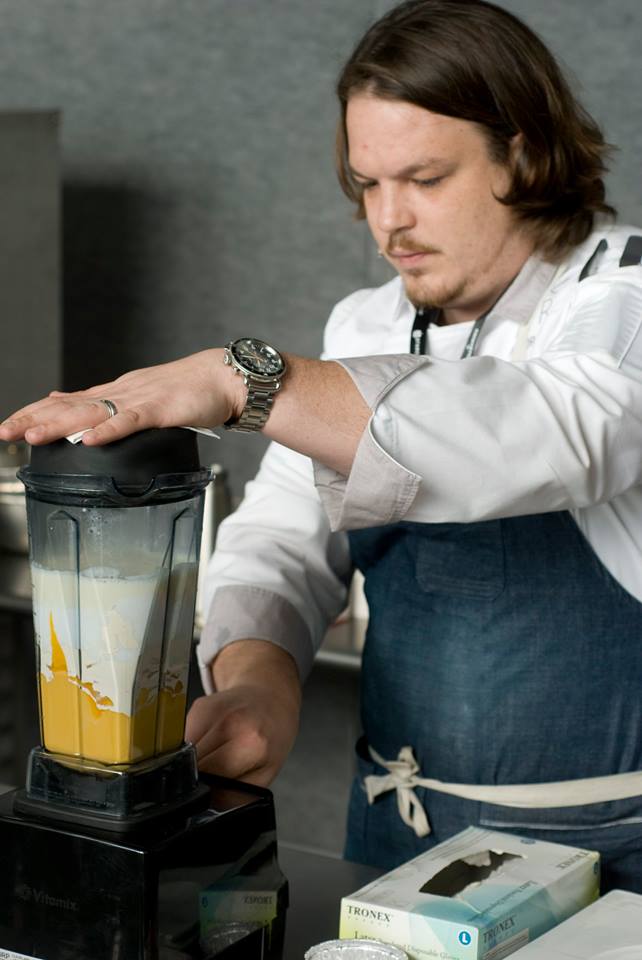 Last October I attended the StarChefs International Chefs Congress in Brooklyn, NY. It's a 3-day conference for chefs from around the world. I've been attending the event since 2010. Last year was a little different for me. Instead of attending the event as just a chef, I was also asked to write a few editorials for the StarChefs website. You might have seen a few of my articles, but if you missed them:
Cooking with the Kopa Charcoal Oven- Shola Olunloyo
The Plating Process- Johnny Spero
I will be heading up again this October, one again writing for StarChefs. One of the articles I wrote last year focused on Miami chef Brad Kilgore, and his use of Polyscience's Control Freak induction burner. Unfortunately, the piece never ended up on the StarChefs website, but I wanted to share it. It was a great workshop, and thought people might find my recap interesting. So here it is.
At the 2016 International Chefs Congress, Miami chef Brad Kilgore demonstrated one of the ways he prepares lobster at his restaurant Alter. For Kilgore, precision is key in his preparations. Most recipes you see elsewhere have temperatures rounded to the nearest 25˚F.  For this lobster dish, the temperatures are more precise: 240°F, 270°F and 82°C. Traditional ovens and stoves aren't able to regulate temperatures as accurately. That's why Kilgore relies on more high-tech kitchen equipment. He came to ICC armed with a new piece of equipment, the Control °Freak induction cooking system by PolyScience and Breville.
Getting Freaky: The Control °Freak sets itself apart from the competition in a number of ways. Most induction cooktops have the thermostat underneath the glass. On the Control °Freak there's a pop-up sensor that directly measures the temperature of the bottom of the pan, as well as a probe control thermometer that regulates the temperature of water and fat-based liquids inside the pan. It can accurately hold temperatures ranging from 86°-482°F within a degree and can be adjusted in both Fahrenheit and Celsius. It's this kind of control that lets Kilgore cook his lobster anglaise at 82°C for an hour, not having to check on it every two minutes to make sure it's not scorched or boiling over. The Control °Freak's full potential hasn't even been fully realized yet. Much like sous vide, it'll change the way food is cooked. PolyScience chef David Pietranczyk adds "We now have the ability to control temperature in way we never had before. Should we cook vegetable stock at 75°C and fish stock at 80°C? What's the best temperature to caramelize onions at?" As more chefs like Kilgore begin using it, we should start to see a database of new techniques and recipes develop.
Solid Technique: You can have all the high-tech equipment you want, but you need to be able to back it up with great technique, which Kilgore clearly has. I've seen a lot of chefs cook lobster before, but none with his level of attention to detail. After breaking down and cleaning the lobster, the shells are thoroughly scraped before being rinsed under cold running water for 40 minutes. This will give the lobster bouillon "the cleanest flavor possible."  For the lobster meat, the different parts are cooked separately. "The claws are boiled in salted water for 6 minutes, and not shocked, as opposed to the tail which is boiled for just 4 minutes before being shocked in an ice bath", to ensure that each part of the lobster is cooked perfectly.  The vandouvan puffed squash garnish goes through a laborious process involving pureeing, straining, vacuum-sealing and steaming. The mixture is then cooled, cut into strips and dehydrated before being deep-fried at 415°F and then seasoned.
The final dish was refined and delicious, showcasing Kilgore's style and technique. While the Control °Freak is still relatively new, seeing what it's capable of, it would seem that it might soon be ubiquitous in kitchens around the world.
If you like what you see, please consider hiring me for an in-home dinner or cooking lesson. I run a personal chef business based out of Frederick, MD. Get more information here. Thank you.
Like my Facebook page
Follow me on Twitter
Check out my Instagram
Watch me on Youtube