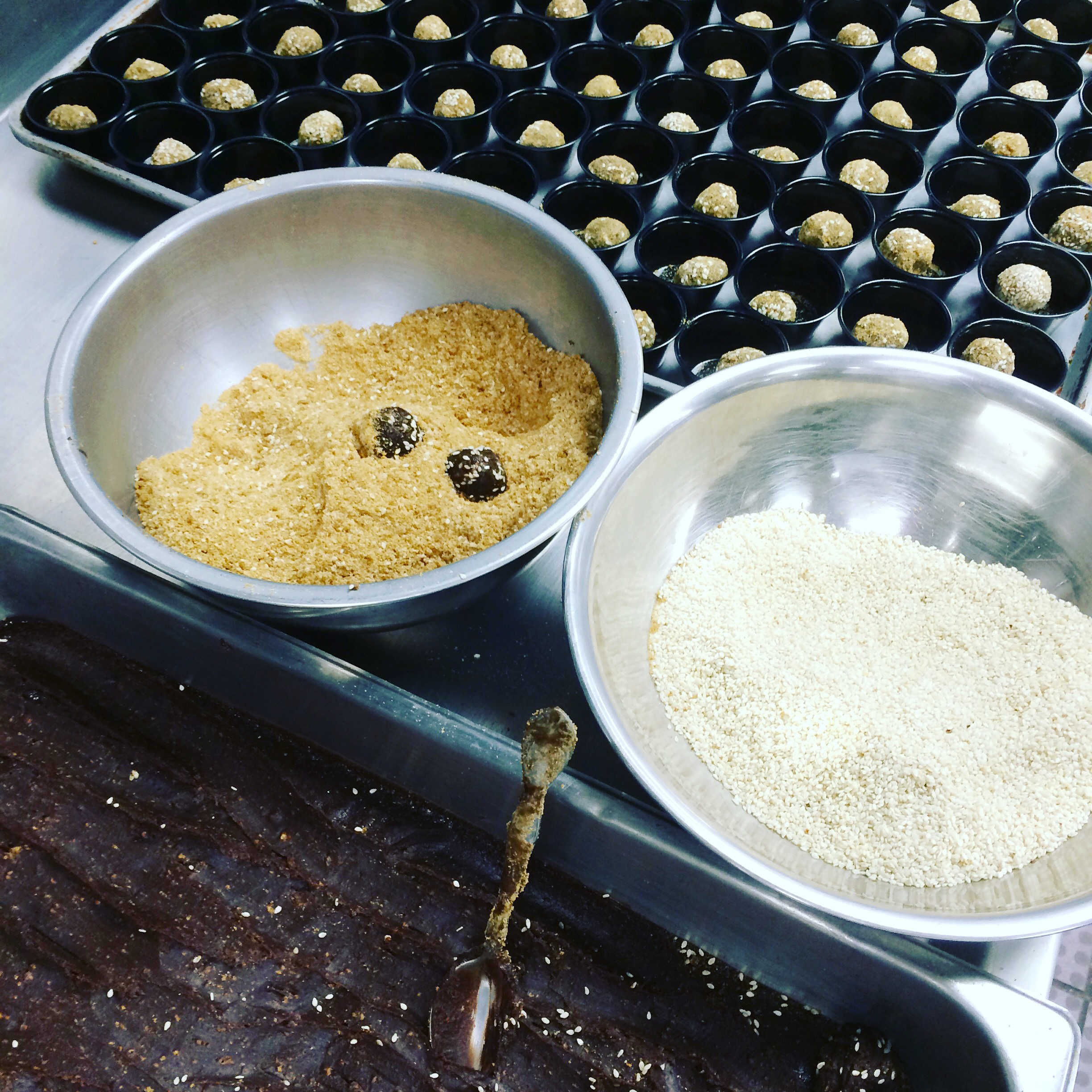 I'm at it again. When I find a recipe I like, I tend to try it out a lot of different ways until I'm tired of it completely. I've recently made Oreo, Pecan & Scotch Truffles, as well as Last Word Truffles. Each time, I start with the same base recipe and make tweaks depending on the additional ingredients. I'm participating in a community fundraiser on Monday, and was planning on serving a Korean-inspired pork dish, so I wanted to bring some of those same flavors into a sweet dish. I settled on Sesame Ginger Truffles. The sesame comes from tahini and toasted white sesame seeds. The ginger comes from ginger puree, gingersnap cookies and ginger liquor. If you can't find ginger puree, just grate some fresh ginger on a microplane.
As much as I wanted to have both weight and volume measures, I just couldn't keep up with the volume measurements. I made this recipe 4 times to get it where I wanted it, and it was so much easier to just use the scale and not worry what 1/3 cup minus 2 teaspoons was. These truffles set up on the soft side, but firm up overnight as the gingersnap crumbs absorb some of the moisture. Let me know what you think.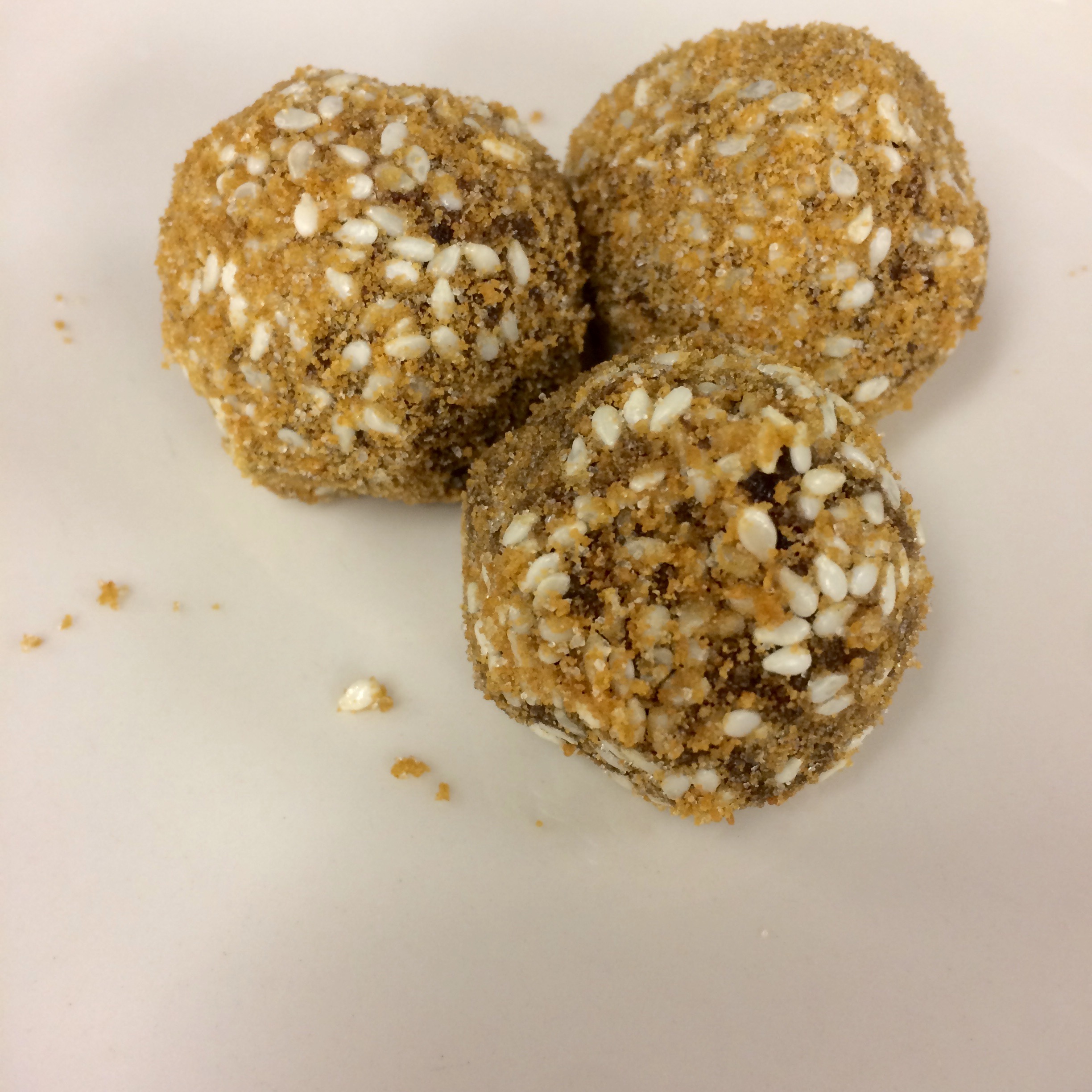 Sesame Ginger Truffles
Makes approximately 30
sesame seeds, white [20 g]
gingersnaps, crushed [75 g + 35g]
heavy cream [55 g]
tahini, well-stirred [50 g]
ginger puree, RC Fine Foods [1.5 g]
light corn syrup [34 g]
honey [20 g]
semisweet chocolate, finely chopped (Callebaut 53.1% Callets work great) [150 g]
ginger liquor (Domaine de Canton) [17 g]
kosher salt [2 g]
granulated sugar [15 g]
Heat sesame seeds in a dry pan over medium heat, constantly shaking for 2 minutes until slightly toasted. Set aside.
Combine the cream, tahini, honey & corn syrup. If making one batch, it can be heated in the microwave 30 seconds or until it begins to boil. If making a large batch, put all ingredients in a double boiler over hot water, and bring to a simmer. Pour over the chopped chocolate. Let stand for one minute, then mix until the chocolate has melted.
Add the ginger liquor and salt to the warm chocolate and mix thoroughly. Stir in the 75 g of gingersnap crumbs.
Chill mixture for at least 40 minutes in the refrigerator.
Meanwhile, mix the sugar with the 35 g gingersnap crumbs.
Scoop out 30 truffles with a teaspoon. Sprinkle with sesame seeds, then roll them in the cookie/sugar mixture. Store in a sealed container for up to 5 days.
Depending on your preferred texture, store them in the fridge for a firmer truffle, or a room temperature for a softer one.
If you like what you see, please consider hiring me for an in-home dinner or cooking lesson. I run a personal chef business based out of Frederick, MD. Get more information here. Thank you.
Chris Spear
Like my Facebook page
Follow me on Twitter
Check out my Instagram
Watch me on Youtube