The evolution of a truffle. Building on the success of the Oreo, Pecan & Scotch Truffles, I wanted to make Last Word Truffles based on the cocktail of the same name. I'm not quite where I want to be with them, but they are still delicious, and I had no trouble eating them all. At the end of the recipe, I've included a few of my notes. I'm working to make these better. Please share your thoughts and ideas in the comments section.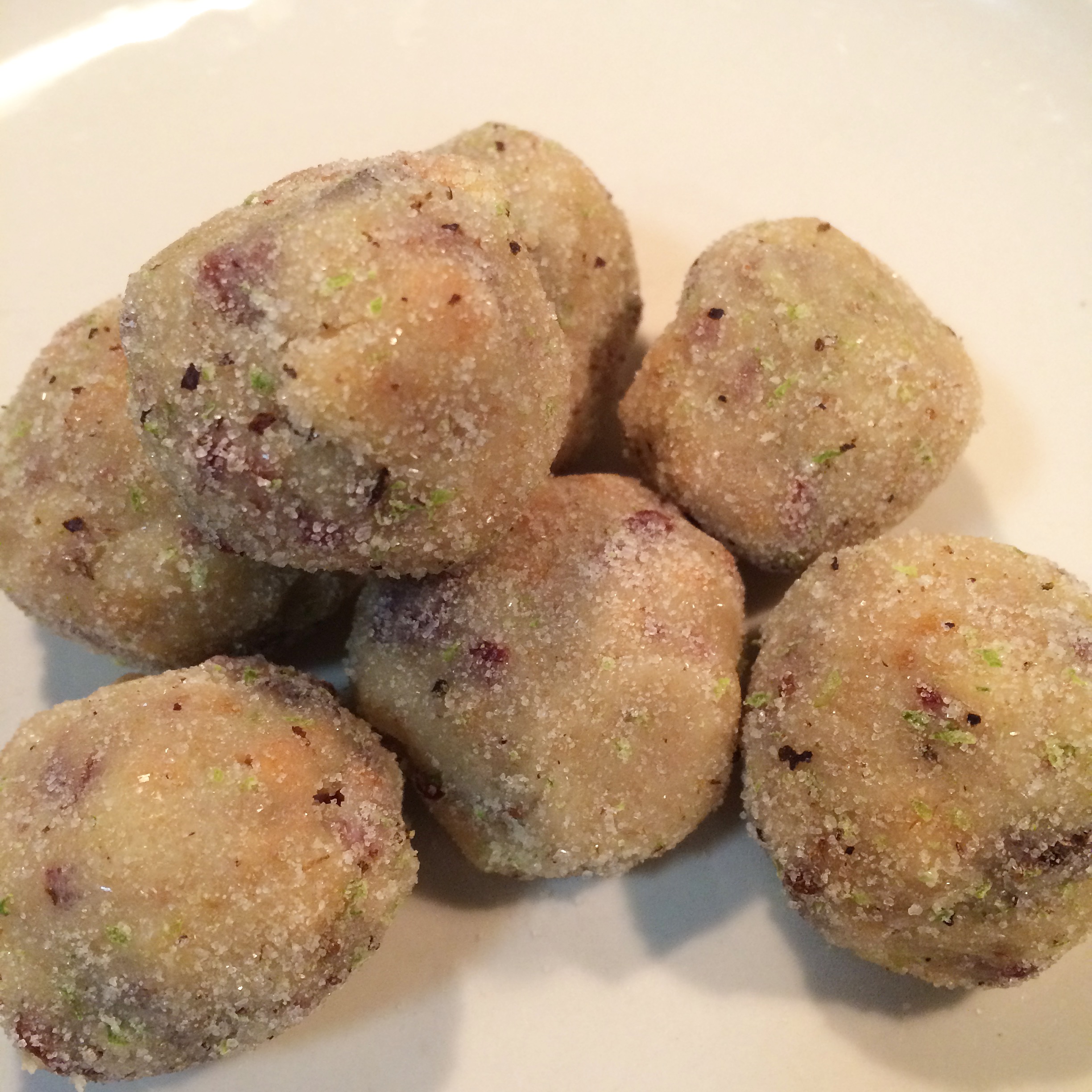 Last Word Truffles
Makes approximately 18
1/2 cup dried cherries, chopped [65 g]
1 cup shortbread cookies, crushed (Lorna Doone) [105 g]
1/4 cup plus 1 tbsp heavy cream [53 g]
3 tbsp light corn syrup [51 g]
4.5 oz white chocolate, finely chopped (Cacao Barry Blanc Satin callets) [127 g]
1 tbsp plus 1 tsp Green Chartreuse [16 g]
pinch of Maldon salt
zest from 1 lime
1 tbsp juniper berries [6 g]
2 oz sugar [60 g]
Mix the sugar, juniper and lime zest thoroughly so that the sugar will absorb the flavors. If possible, do this with a mortar and pestle, crushing the juniper. Allow to sit at least an hour. Strain sugar through a fine strainer or sifter.
Chop the dried cherries into small pieces.
Combine the cherries with the crushed shortbread cookies in a bowl.
In a small pot, bring the cream and corn syrup to a boil, and then pour over the chopped chocolate. Let stand for one minute, then mix until the chocolate has melted
Pour the chocolate mixture over the cherries and cookies. Add the chartreuse and salt. Mix thoroughly.
Chill mixture for at least 40 minutes in the refrigerator.
Scoop out 18 balls with a teaspoon, then roll them in the seasoned sugar. Store in a sealed container for up to 5 days.
Notes: They set up too soft., though the texture improved after sitting for a day or two. I'm considering cutting half the liquid. Also consider adding juniper, then straining, but keeping lime zest in. Too much cherry. Maybe reduce by ¼. Chartreuse flavor is great. Maybe add cookie crumb on outside to make less sticky. I've even considered caramelizing the chocolate or just going with dark chocolate
If you like what you see, please consider hiring me for an in-home dinner or cooking lesson. I run a personal chef business based out of Frederick, MD. Get more information here. Thank you.
Chris Spear
Like my Facebook page
Follow me on Twitter
Check out my Instagram