It's a cold winter day, and I'm trying to survive this blizzard. I've heard that we're currently at 33 inches of snow for our area, which seems about right. What a great excuse to stay inside and work on some recipes. I took a truffle recipe and tweaked it to include a few of my favorite things…Oreos and scotch. You should be able to keep the ratios the same, and change the cookies, liquor, nuts and sugar component. Let me know what you try. I'm already thinking about switching to a darker chocolate and using Green Chartreuse. Almonds, maybe?
Oreo, Pecan & Scotch Truffles
Makes approximately 20
1 cup pecan pieces [135 g]
1 cup Oreos, crushed [100 g]
1/4 cup plus 1 tbsp heavy cream [53 g]
2 tbsp light corn syrup [34 g]
1 tbsp honey [20 g]
4.5 oz semisweet chocolate, finely chopped (Callebaut 53.1% Callets work great) [127 g]
1 tbsp plus 1 tsp scotch (Glenfiddich 12 year) [13.5 g]
pinch of Maldon salt
zest from 1/3 orange
1 oz sugar [30 g]
Preheat a convection oven to 350. Toast pecans 7 minutes. Let cool, and then chop in small pieces.
Combine half of the pecans with the crushed Oreo cookies in a bowl.
In a small pot, bring the cream, honey & corn syrup to a boil, and then pour over the chopped chocolate. Let stand for one minute, then mix until the chocolate has melted.
Pour the chocolate mixture over the pecans and Oreos. Add the scotch and salt. Mix thoroughly.
Chill mixture for at least 40 minutes in the refrigerator.
Meanwhile, mix the sugar, pecans and orange zest, mixing thoroughly so that the sugar absorbs the orange and nut oils.
Scoop out 20 balls with a teaspoon, then roll them in the orange/pecan sugar. Store in a sealed container. (They probably won't be around that long).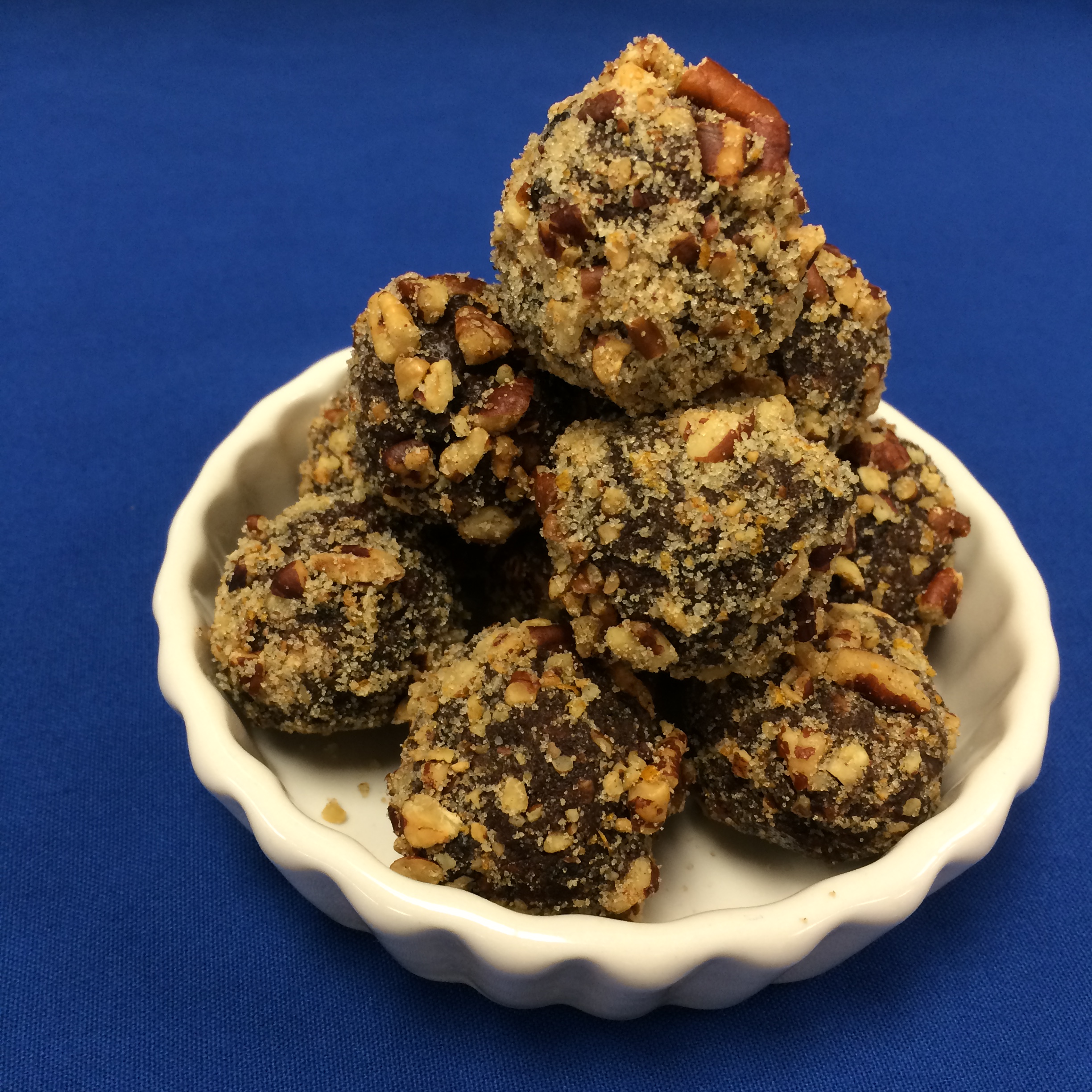 If you like what you see, please consider hiring me for an in-home dinner or cooking lesson. I run a personal chef business based out of Frederick, MD. Get more information here. Thank you.
Chris Spear
Like my Facebook page
Follow me on Twitter
Check out my Instagram