Corn on the Cob Bourbon, Corn Husk Syrup & The Street Corn Sour
If you've been reading my blog for a while, you might have seen my original post on Corn on the Cob Bourbon, ISI Infusions and Fat Washing from 2012. This summer, I started talking with Jed Portman from Garden & Gun magazine about it, as well as all things corn husk related. I'm thrilled to announce that my recipes for the bourbon, as well as a roasted corn husk syrup and a cocktail called the Street Corn Sour are currently on their website. Please head over to their website to find these three recipes.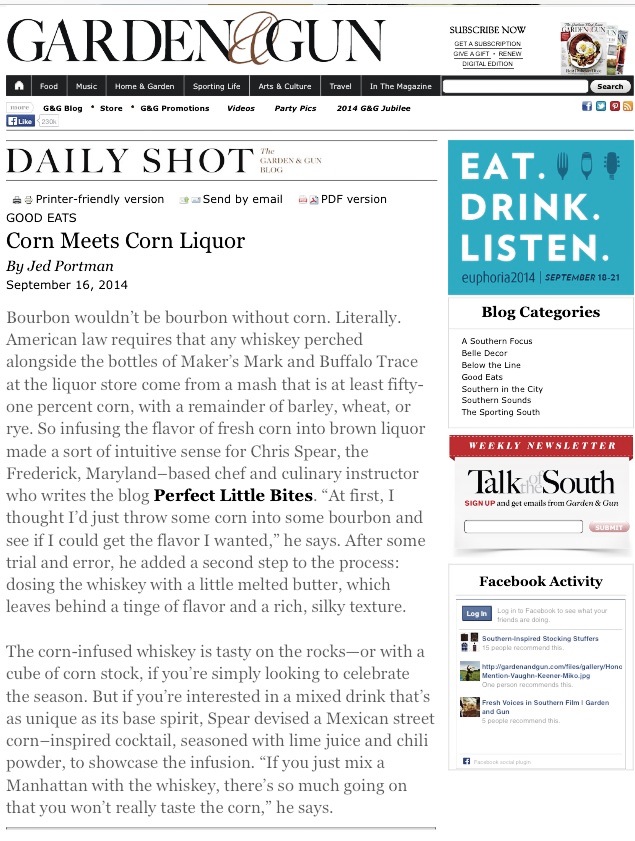 How to Contact Me and Book a Dinner
If you like what you see, please consider hiring me for an in-home dinner or cooking lesson. I run a personal chef business that services a 70-mile radius from Frederick, MD. That includes Washington D.C, Baltimore, Northern Virginia, southern Pennsylvania, and Eastern West Virginia. Get more information here. Thank you.
You can also find me on Facebook, Instagram (photos and Threads), Twitter, TikTok, YouTube and on the Chefs Without Restaurants podcast.