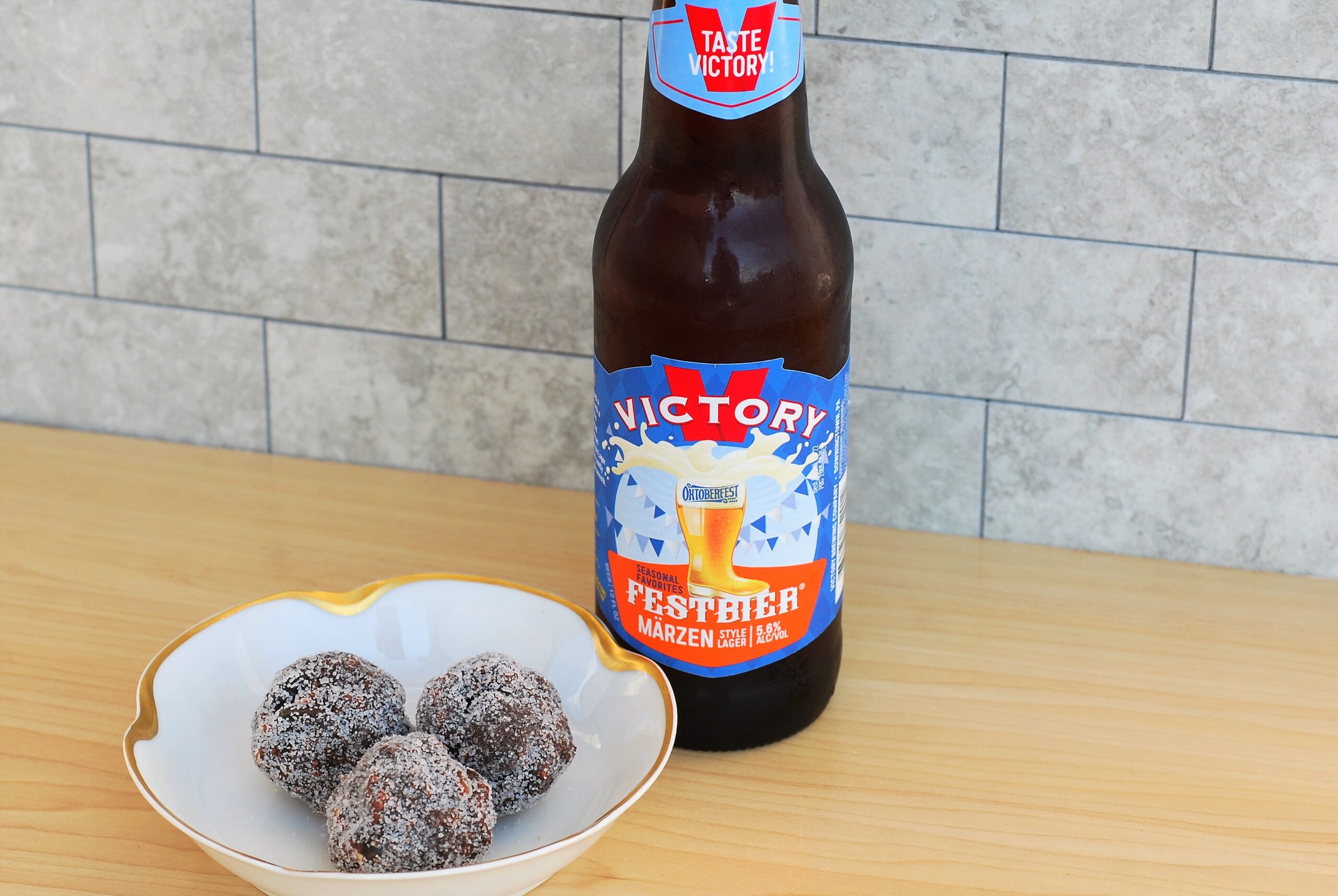 Oktoberfest Beer & Pretzel Truffles
Podcast Episode with Bill Covaleski
Today I'm sharing one of my favorite sweet treats. It's a recipe for beer and pretzel truffles. Victory Brewing Company has been one of my favorite breweries for more than 20 years. I used to live close to their original brewery in Downingtown, PA, and have fond memories of playing pool, eating a slice of pizza, and drinking a Mad King Weisse, Golden Monkey, V-12, or one of their other tasty beverages. With my podcast Chefs Without Restaurants, I've had the opportunity to speak with some truly amazing people, one of whom is Victory co-founder Bill Covaleski. To go along with the release, I wanted to create a couple of recipes using Victory beer.
Since it's Oktoberfest season, I thought it was a great time to share my recipe for Oktoberfest beer & pretzel truffles. The truffles feature Victory's Festbier Marzen in them. Of course, if you want to make them you'll have to hurry up… it's almost Christmas beer season.
Truffle Recipe
Makes approximately 20
• Semisweet Chocolate, finely chopped (Ghiradelli chips work great) 4.5 oz [127 g]
• Victory Brewing Festbier Märzen 1/4 cup + 1 T [75 g]
• Lite Corn Syrup 2 T [40 g]
• Utz Extra Dark Sourdough Pretzels, crushed 3/4 cup [100 g]
• Oreos, crushed 7 each [100 g]
• Sugar (for rolling) as needed
Finely crush pretzels and Oreo cookies. This can be done by hand, or by pulsing in a food processor.
In a small pot, bring the beer & corn syrup to a light simmer, and then pour over the chopped chocolate. Let stand for one minute, then mix until the chocolate has melted.
Pour the chocolate mixture over the pretzels and Oreos. Mix thoroughly.
Chill mixture for at least 40 minutes in the refrigerator.
Scoop out 20 balls with a teaspoon, then roll them in the sugar. Store sealed in the refrigerator. These are best when allowed to come to room temperature for 30 minutes.
How to Contact Me and Book a Dinner
If you like what you see, please consider hiring me for an in-home dinner or cooking lesson. I run a personal chef business that services a 75-mile radius from Frederick, MD. That includes Washington D.C, Baltimore, Northern Virginia, southern Pennsylvania, and Eastern West Virginia. Get more information here. Thank you.
You can also find me on Facebook, Instagram (photos and Threads), Twitter, TikTok, YouTube and on the Chefs Without Restaurants podcast.