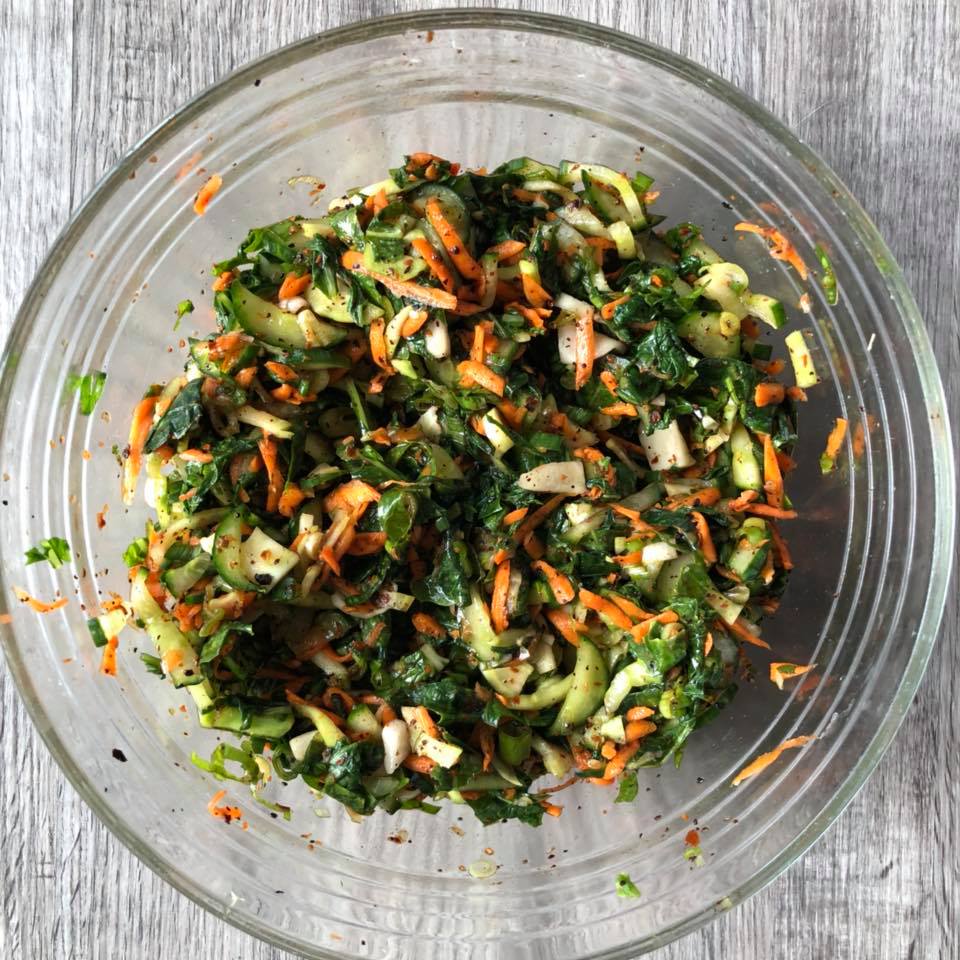 Quick Collard/Turnip/Kohlrabi Kimchi with Broccoli Cores and Ramps
This is a kimchi-ish dish. It definitely has roots in a quick kimchi, but is a little different. I wanted to use up a bunch of different vegetables, especially leafy greens, that I had in the fridge. I also picked up some fantastic hakurei turnips from Milk and Honey Farms, and I wanted to use them instead of daikon radish in this recipe. I also love the extra funk you get by replacing some of the scallions with ramps. Since I somehow let my supply of gochugaru run out, I decided that I would replace it with both Aleppo and Urfa Biber chili pepper flakes.
Carrot, shredded 150 G
Turnip Greens, chiffonade and soak 50 g
Collard Greens, chiffonade and soak 35 g
Kohlrabi Greens, chiffonade and soak 35 g
Broccoli Cores, trimmed and thinly julienned 122 g
Hakurei Turnips, peeled and sliced 88 g
English Cucumber, julienned 330 g
Sea Salt 56 g
Urfa Biber Chili Flakes 10 g
Aleppo Pepper Chili Flakes 10 g
Fish sauce (preferably Red Boat) 30 g
Light Corn Syrup 30 g
Scallions, thinly sliced 120 g
Ramp Greens, thinly sliced 30 g
Drain greens and squeeze excess water out. Combine with carrot, broccoli cores, turnip, cucumber and sea salt in bowl. After 15 minutes, mix to redistribute brine. After additional 15 minutes, quickly rinse the vegetables under cold water. Lightly squeeze and place in a bowl. Add chili flakes, fish sauce, corn syrup, ramps and scallions. It is ready to use but improves as it sits under refrigeration.
If you've read the blog for a while, you'll notice that this recipe is based off of my
Quick Collard Kimchi
, which I doubled. I like to keep a certain ratio of greens, crunchy brassicas, spice and onion-type things.
If you like what you see, please consider hiring me for an in-home dinner or cooking lesson. I run a personal chef business based out of Frederick, MD. Get more information here. Thank you.
Chris Spear
Like my Facebook page
Follow me on Twitter
Check out my Instagram
Watch me on Youtube