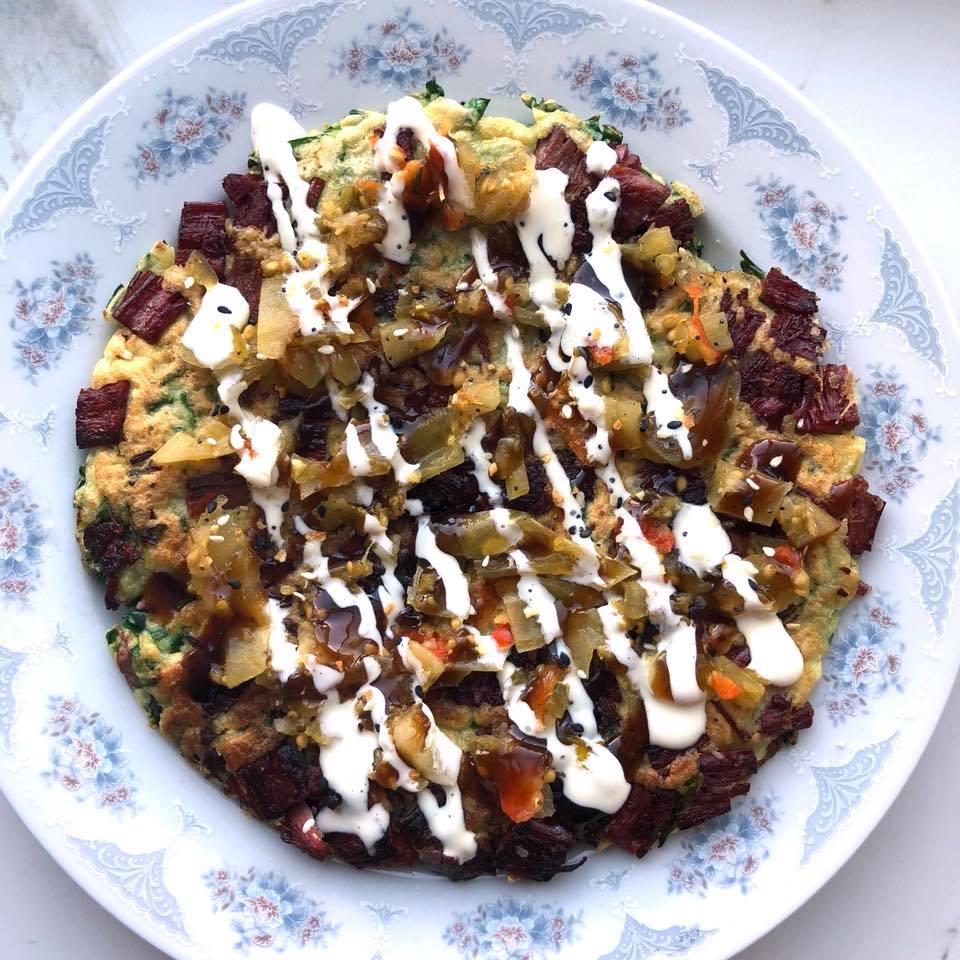 Corned Beef, Baby Bok Choy, Chives, The Sweet Farm Fermented Kapow Chow Chow, Okonomi Sauce, Dukes/Buttermilk/Maple and Everything Spice
This is not a traditional Okonomiyaki, and I don't have a recipe here, though I can talk you through it if you're interested. If you've never had one, it's essentially a cabbage pancake, and can have a variety of toppings. If you'd like to try your hand at a traditional one, there's a great recipe on Serious Eats. I had never had one until I ate at Xiao Bao Biscuit in Charleston, SC about 5 years ago. Instantly, I knew that this was something I was going to crave forever. In fact, if you'd like to try an interesting spin on Okonomiyaki, XBB chef Josh Walker has a recipe for a version with sweet potatoes and brussels sprouts.
Last Saturday was St Patrick's Day, and I had some leftover corned beef in the fridge. This seemed like the perfect opportunity to make my own version. I started scavenging for ingredients. I had some baby bok choy in the fridge, as well as a bottle of okonomi sauce. I took out the Duke's mayo, some buttermilk and maple syrup for a quick sauce. I wanted something pickled for a little acidity, and thought the fermented chow chow from The Sweet Farm would be perfect. I didn't have any scallions, but my garden is already producing chives. It made the perfect lunch, and could quite possibly end up on my menu.
If you like what you see, please consider hiring me for an in-home dinner or cooking lesson. I run a personal chef business based out of Frederick, MD. Get more information here. Thank you.
Chris Spear
Like my Facebook page
Follow me on Twitter
Check out my Instagram
Watch me on Youtube