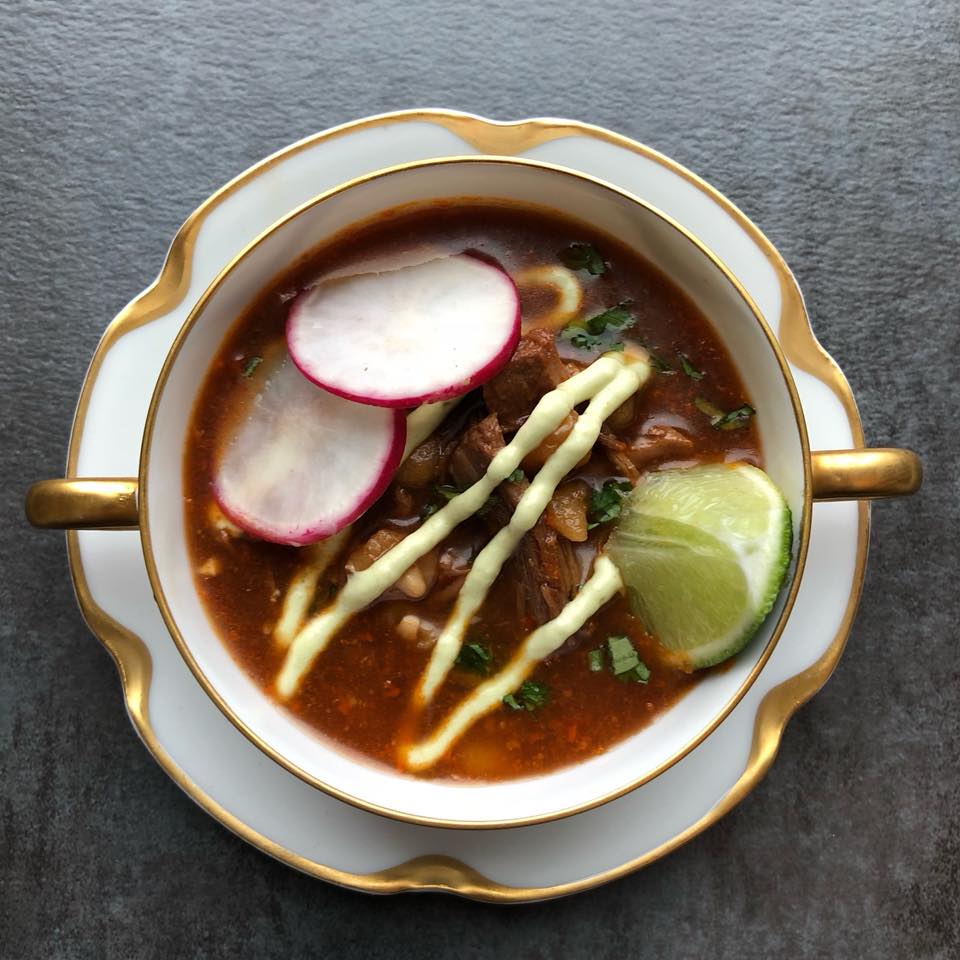 This past Tuesday, I was supposed to compete in a Chefs Without Restaurants culinary throwdown in Frederick, Maryland. Due to the snow (which ended up being less than an inch), we had to cancel the event. One of the dishes I had planned on serving was a pork and hominy pozole (or posole). I figured that I might as well make it for the family at home, take some pictures and post the recipe. You can modify this recipe hundreds of ways. A great use for that pressure cooker or Instant Pot you got for Christmas. Let me know what you think.
Pork Pozole
Serves 8-12
Ingredients
For the pozole:
1 oz vegetable oil
3 pounds boneless pork shoulder, cut into large cubes
3 tablespoons chipotle spice blend (see note below)
1 onion, medium dice
4 cloves garlic, minced
1 dried ancho chile pepper (stem & seeds removed)
1 dried pasilla chile pepper (stem & seeds removed)
2 bay leaves
1 ½ teaspoons dried Mexican oregano
1 quart low-sodium chicken stock
2 15 oz cans white hominy, drained and rinsed
For the garnish:
thinly sliced radishes
lime wedges
chopped cilantro
smoked paprika
hot sauce
For the hatch/avocado crema:
1 4 oz can Hatch chilis (either mild or hot)
½ ripe avocado
½ cup full fat sour cream
Milk as needed
Directions
For the pozole: Toss the pork cubes with the chipotle spice blend. Allow to sit for at least 30 min and up to 24 hours (under refrigeration).
Heat oil in a cast iron skillet (if unavailable, use any frying pan). Add the pork in small batches, cooking until brown on all sides. Add the pork to the pressure cooker, reserving some fat in the pan.
Sautee the onions in the rendered pork fat 3 minutes. Then add the garlic and cook an additional 1-2 minutes until lightly browned. Add the onions and garlic to the pressure cooker with the remaining ingredients except the hominy. Cook on high pressure for 40 minutes. When done, do a quick release of pressure.
Remove and discard bay leaves. Remove the pork from the broth. Puree the broth (using a stick blender right in the pressure cooker is easiest). Add the pork back to the broth, as well as the hominy. Use the simmer/sauté setting on the pressure cooker to bring everything up to heat. If necessary, you may need to skim some of the fat off the top of the soup. If you want to make this a day ahead of time, reserve the broth separately from the meat and hominy in the fridge. The next day the fat will have risen to the top and is easily discarded.
For the crema: Open and drain the can of chilis. Puree in a blender. When thoroughly pureed, add ½ of a ripe avocado and the sour cream. Puree. Add more sour cream (to thicken) or milk (to thin) as needed.
To serve:
Ladle the soup into the bowls. Add hot sauce if desired. Sprinkle with smoked paprika and cilantro, a few squirts of crema, 3 radish slices and a wedge of lime.
Note: For my spice blend, I use a dry chipotle spice blend from RC Fine Foods. It has chipotle peppers as well as salt, cumin, onion, garlic and other seasonings. If you don't have this, you'll have to play around with other sices or spice blends. You might want to add more salt, cumin, etc. Also, this is a milder pozole. Feel free to adjust the types of peppers and the amounts. I like guajillos, but I didn't have any and the market was out.
If you like what you see, please consider hiring me for an in-home dinner or cooking lesson. I run a personal chef business based out of Frederick, MD. Get more information here. Thank you.
Like my Facebook page
Follow me on Twitter
Check out my Instagram
Watch me on Youtube