Paw paw season is probably over for most of you out there, if you even had any at all (or even knew what they were). Keep this recipe ready for when you get your hands on some next year.  I really wish I had saved some pulp in the freezer to make it last. Alas, this was the last one I had.
A few notes on this recipe. The original recipe I found called for all vegetable shortening. I only had half of the 1/3 cup Crisco needed, so I used some rendered bacon fat I had in the fridge. It didn't really add any bacon flavor to the bread, though I wouldn't have minded that. Also, I was all out of regular granulated white sugar, so I used all turbinado sugar. I think it worked really well. I didn't measure the paw paw pulp. The recipe called for a cup of pulp, pureed in a food processor. I had large paw paws, and used a whole one. After removing the pulp and taking the seeds out, I probably had 1 1/4 cups pulp. My paw paw was very ripe, and I just mashed it with a spoon in the bowl. I don't toast nuts in the oven anymore. I heat them in the microwave in short blasts. Check out Ideas in Food's post "Mic-Roasted Nuts". I'd be interested to try making the cake again with craisins or golden raisins.
I still have some Paw Paw Ice Cream in my freezer. For a more composed dessert, I heated a slice of the bread in a frying pan in some bacon fat, and then top it with a scoop of the ice cream. I think it would be really nice topped with some beer caramel.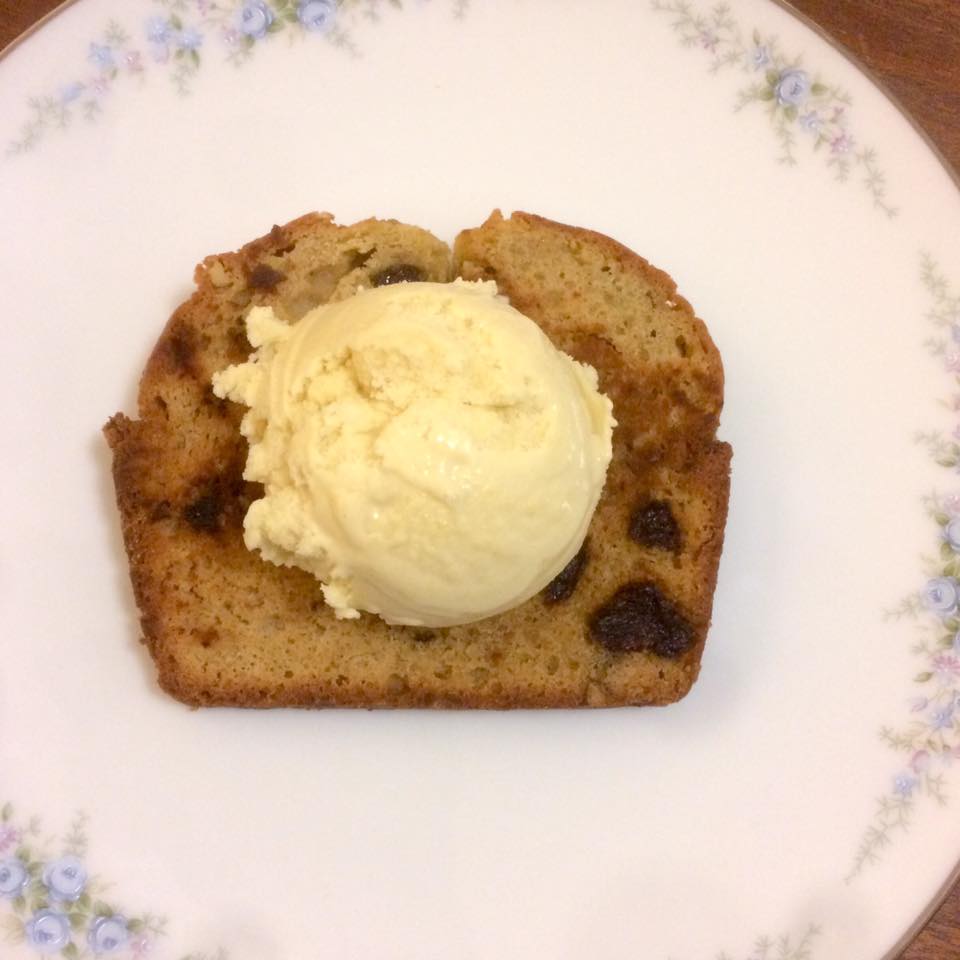 Paw Paw Bread with Walnuts & Raisins
1/3 cup vegetable shortening (or replace half with chilled, rendered bacon fat)
2/3 cup turbinado sugar (white sugar is fine)
2 large eggs
1 ¼ cups paw paw puree (remove seeds and mash pulp)
1 3/4 cups all-purpose flour
2 tsp baking powder
1/4 tsp baking soda
3/4 tsp kosher salt
1/2 cup raisins
1/2 cup chopped toasted walnuts
Cream shortening and sugar together, beating until fluffy. Add eggs, one at a time, beating well after each addition. Beat in pawpaw puree.
Mix together remaining dry ingredients. Add 1/3 at a time, beating smooth each time.
Add raisins and raisins, mixing to incorporate.
Pour batter into a greased, 8x4x3 loaf pan and bake in a 350 degree oven for about 50 minutes, or until a knife inserted into the loaf comes out clean.
Cool on rack before slicing.
How to Contact Me and Book a Dinner
If you like what you see, please consider hiring me for an in-home dinner or cooking lesson. I run a personal chef business that services a 70-mile radius from Frederick, MD. That includes Washington D.C, Baltimore, Northern Virginia, southern Pennsylvania, and Eastern West Virginia. Get more information here. Thank you.
You can also find me on Facebook, Instagram (photos and Threads), Twitter, TikTok, YouTube and on the Chefs Without Restaurants podcast.