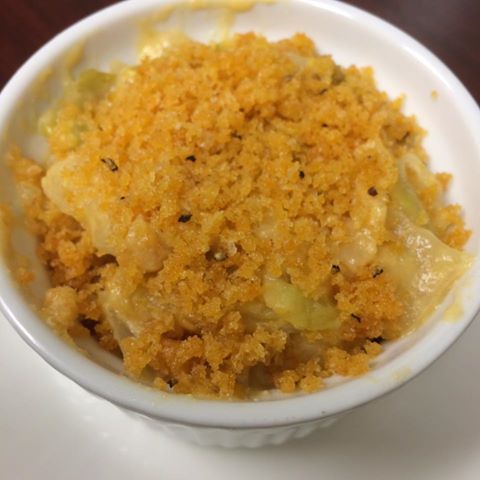 Scalloped Cabbage is one of my favorite side dishes. It's not fancy, but it's delicious. As Fall approaches, I begin working on new and revised recipes. This is an old favorite that I keep going back to. At it's core, it's cabbage cooked with cheese sauce and crumb topping.
After going at it a number of ways, I've decided that I like to cook my cabbage completely first so that no cabbage liquid dilutes the cheese sauce. You can toss it in oil and oven-roast it, or you can boil/steam it. Both work great. It just depends on what you're going for.
Cheese is the next variable. For this one, I used extra sharp cheddar, which I smoked myself, as well as some American cheese. If you'd like to smoke your own cheese, I suggest getting a tube smoker or smoking gun. You can use any cheese sauce recipe you like. The one from the Serious Eats/Food Lab Mac & Cheese works really well.
The last component is the crumb topping. I like to melt unsalted butter and toss in some panko bread crumbs, kosher salt, cracked pepper, smoked paprika & granulated garlic. You could add anything you want. Put the crumb on a parchment-lined (or silicon mat-lined) sheet tray and bake at 350 until golden, about 6 minutes.
Combine the cooked cabbage with the finished cheese sauce and put into a buttered baking dish, hotel pan or ramekins. Top with crumb and bake in the oven for 5 minutes or until warm. If you're not making this all at once, you can mix the cabbage and cheese ahead of time. If cooking that way, you need bring it up to temperature without the crumb first. This can easily be done in the microwave. Then add the crumbs to finish.
If you like what you see, please consider hiring me for an in-home dinner or cooking lesson. I run a personal chef business based out of Frederick, MD. Get more information here. Thank you.
Like my Facebook page
Follow me on Twitter
Check out my Instagram
Watch me on Youtube