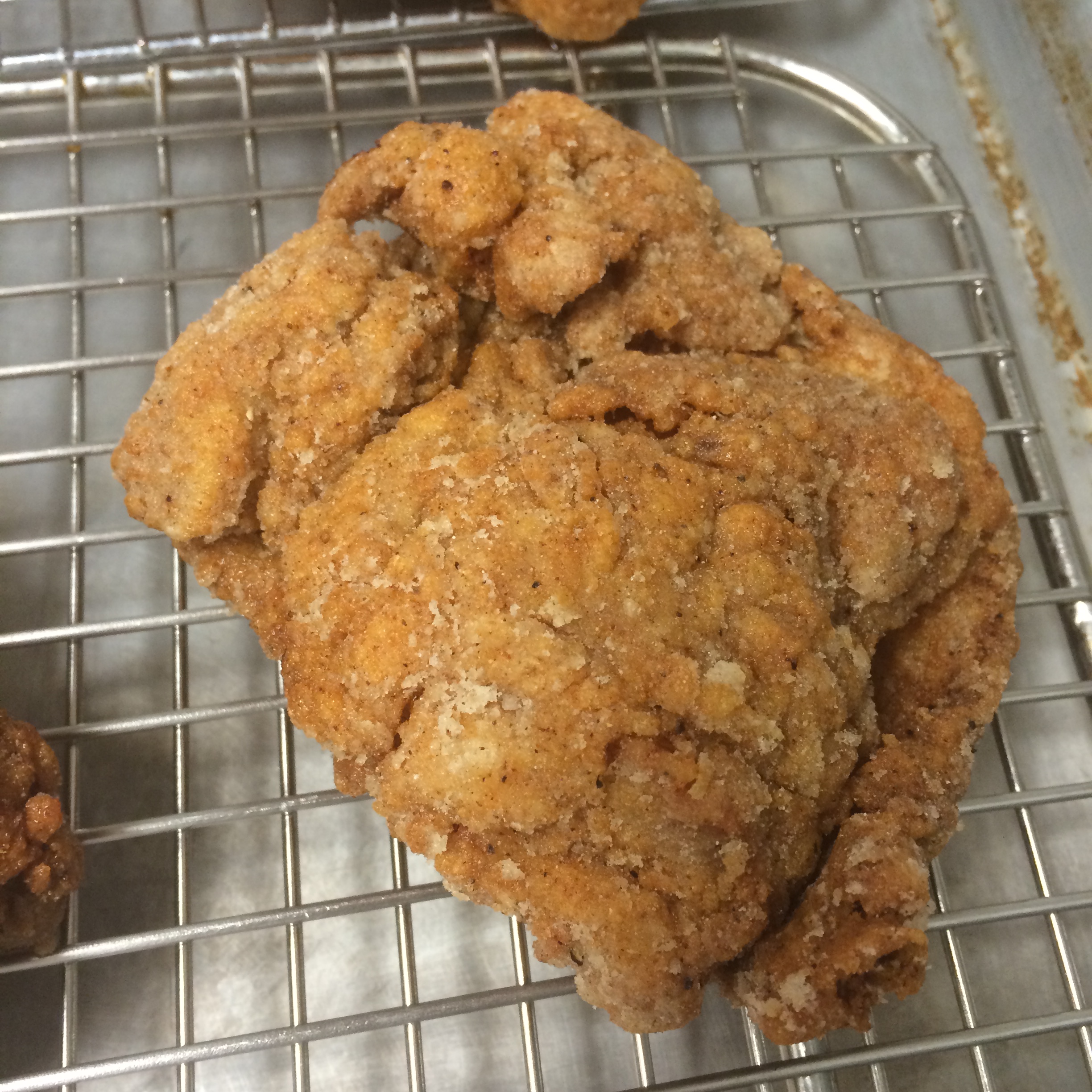 Fried Chicken. I don't really think the world NEEDS another fried chicken recipe. But, that's not going to stop me from sharing this. First thing, I didn't create this recipe out of thin air. I've done a lot of research (reading & eating). There's a great book called Fried & True, chronicling almost every well-known fried chicken recipe out there. Then there are my favorite recipes from Ideas in Food and The Food Lab. It was IIF's use of pickle brine, potato starch and masa that really drove this recipe. If it wasn't for all the hard work they've done, this recipe wouldn't be here. I looked at what they did, took the parts that I liked, added some spices, adjusted some ratios and ended up with a fried chicken I was really happy with.
I decided to go with boneless, skin-on thighs because who really wants to mess with the bones. Also, it cuts down the frying time dramatically. Your frying time might differ depending on the size of fryer or pan you're using. I'm using a commercial fryer which holds temperature really well. I also provide the option to make this Nashville hot-style. I'd recommend throwing it on some griddled Texas toast with some pickles.
Other delicious variations could include Mapo Sauce, Alabama White BBQ or Concord BBQ.
Note: I think that it's possible to over-brine the chicken, which might cause excessively wet crust. Last week, I made a batch and let it brine for maybe 24 hours. The cooked chicken was extremely juice, which is not usually a bad thing. But after 2 minutes, all the juice was running out, making the crust wet, and preventing it from adhering to the chicken. I asked Kenji about this on Twitter, and he suggested letting the chicken sit after frying, and then frying it again which would make it extra-crispy. This seemed to do the trick. After frying the chicken, I let it sit for 30 minutes in a hot box. The coating was very wet. Then I fried it for another minute, and it crispy crust returned, and there was no excess liquid coming out. Problem solved.
Fried Chicken- Hybrid Recipe
BBQ Rub
2 T smoked paprika
1 T 5 peppercorn blend, coarsely ground
1 T granulated garlic
1 T ground cumin
1 T dark chile powder
1 tsp cayenne pepper
Marinade
2 T BBQ Spice Blend
1/2 cup buttermilk
1/2 cup pickle brine
1 large egg
2 T Cholula hot sauce, regular
1 T kosher salt
Coating
1 1⁄2 cups potato starch
1⁄2 cup masa
3 T BBQ Spice Blend
2 tsp kosher salt
3 T leftover marinade
Hot Chicken Oil
Remaining rub, which should be 1T + 1 tsp
1 T cayenne pepper
1 T hot smoked paprika
1 T light brown sugar
3 T grade B/dark amber maple syrup
1 cup hot frying oil
Chicken
preferably boneless, skin-on thighs
4 cups vegetable shortening or peanut oil
For Serving
Griddled Texas toast & assorted pickles for serving, especially quick pickled cauliflower cores.
DIRECTIONS
Make BBQ Rub by combining all ingredients.
Mix the buttermilk, pickle brine, hot sauce, egg, 1 tablespoon salt and 2 tablespoons of the spice mixture in a large bowl. Add the chicken and toss to coat. Refrigerate for at least 4 hours, and up to overnight. Occasionally mix the chicken to redistribute the brine.
Whisk together the potato starch, masa, 2 teaspoons salt and the 3 tablespoons spice mixture in a large bowl. Add 3 tablespoons of the marinade from the zipper-lock bag and work it into the flour. One piece at a time, toss chicken into the flour mixture to coat.
Heat the oil to 350°F. Fry around 3-5 minutes until done (165°F)
For Hot Chicken
Combine all ingredients for the hot chicken oil. Brush on the fried chicken. Serve on griddled Texas toast with pickles
If you like what you see, please consider hiring me for an in-home dinner or cooking lesson. I run a personal chef business based out of Frederick, MD. Get more information here. Thank you.
Chris Spear
Like my Facebook page
Follow me on Twitter
Check out my Instagram