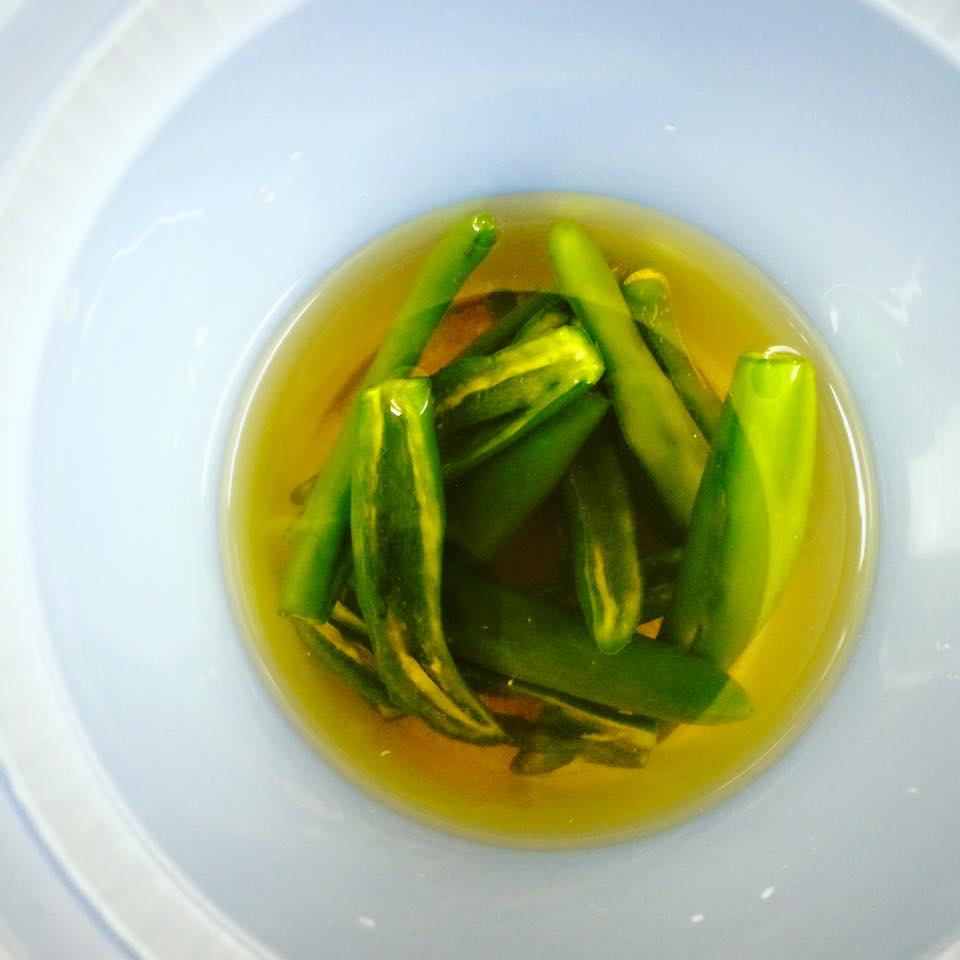 The first thing I'll tell you is this: I didn't grow up in Alabama. I haven't even been to Alabama. But, I have had a few different versions of Alabama White BBQ Sauce. As with every other recipe out there, it seems like there are a million different ways to make this. Some recipes call for creole mustard, while others use horseradish. The pepper component varies from cayenne to sambal olek to jalapenos. Some use cane syrup, others honey, corn syrup or sorghum. So here's my version…
Stuck with 2 pounds of serrano peppers for a Mexican dinner that was cancelled due to the blizzard, I thought I'd use those as my pepper component. I wanted to pickle my peppers first, then use the pepper-infused vinegar in the sauce. Being a northerner, I swapped in some dark amber maple syrup for a int of sweetness.
Serrano/Maple White BBQ Sauce
MAKES ABOUT 1½ CUPS
1 cup mayonnaise (Duke's or Hellmann's please)
½ cup serrano cider vinegar
2 tablespoons grade B/dark amber maple syrup
1 tablespoon prepared horseradish
1 teaspoon fresh black pepper, coarsely ground
1 teaspoon fresh lemon juice
2 each whole pickled serrano peppers, minced (see recipe below)
Whisk together all the ingredients in a bowl. Refrigerate for at least 1 hour before serving.
Quick-Pickled Serrano Peppers
at least 2 serrano peppers, but do more to make it worth your time
3:1 sugar to salt ratio by volume- try 6 oz sugar and 2 oz kosher salt. The amount of peppers you use dictates this
apple cider vinegar to cover
Combine the sugar and salt in a bowl.
Remove the stems from the peppers. Cut them in half and remove the seeds and veins.
Add the peppers to the sugar/salt mixture and toss thoroughly.
Stir the peppers every 15 minutes for an hour. Liquid should begin coming out of the peppers.
After an hour, remove the peppers from the mixture and transfer to a new jar/container. Fill with apple cider vinegar to cover.
Now you have pickled peppers, and spicy vinegar.
If you like what you see, please consider hiring me for an in-home dinner or cooking lesson. I run a personal chef business based out of Frederick, MD. Get more information here. Thank you.
Chris Spear
Like my Facebook page
Follow me on Twitter
Check out my Instagram
Watch me on Youtube