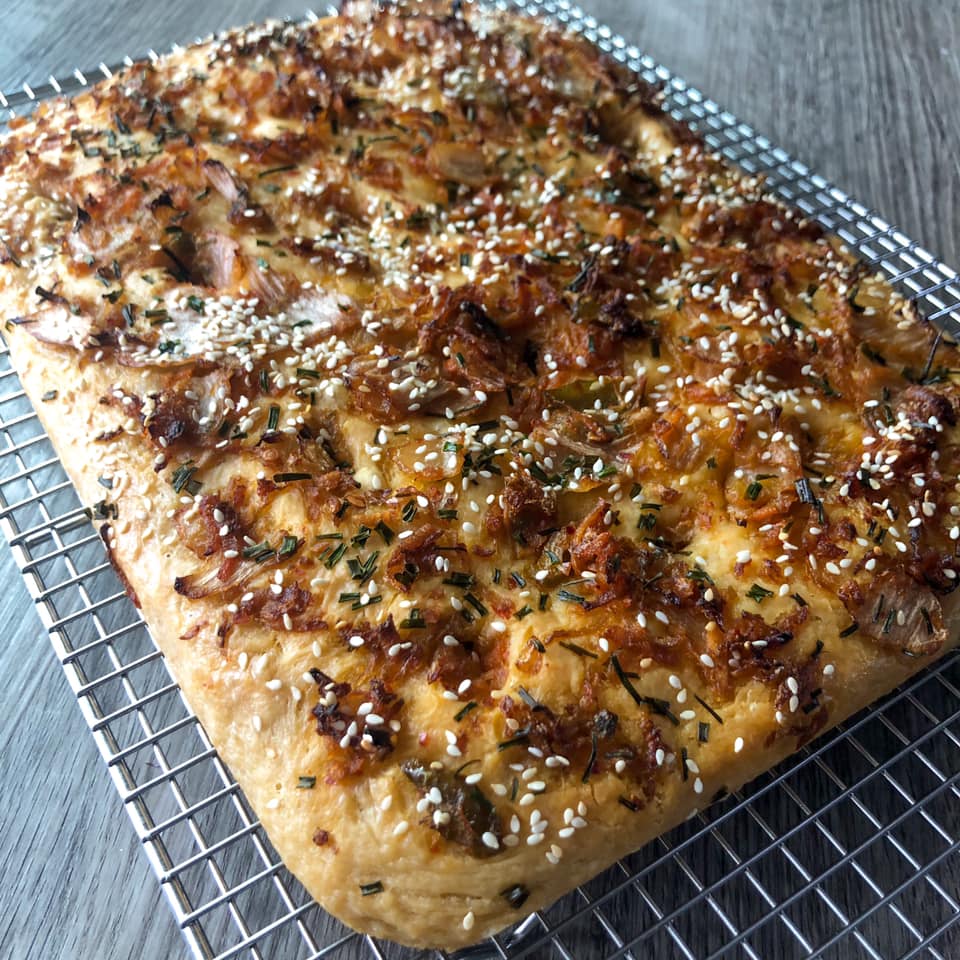 Kimchi Focaccia
550g bread flour (or all-purpose)
5.5 g (1 ½ tsp) kosher salt
6 g (2 tsp) instant yeast (I used Fleishman's Rapid Rise)
5 g (1 tsp) granulated sugar
410 g (420ml) lukewarm liquid (I used 300 g water and 110 g reserved kimchi juice)
230g chopped kimchi, drained (see notes on brands/combos)
a small bunch of chives, chopped
1 ½ tsp white sesame seeds
Heat the water and kimchi juice to 110 degrees F. Place the flour, salt, yeast, and sugar in the bowl of a stand mixer fitted with the dough hook attachment. Slowly add the warm liquid. Knead for 5 minutes on medium. Cover with plastic wrap and let rise for 1 hour on the counter, then move to the refrigerator and let it sit overnight.
Remove the dough from the fridge, and let it come to room temperature in the bowl for about 2 hours
Spray a 9×12-inch baking sheet (1/4 sheet pan) with pan spray, then rub 2 T olive oil on the pan, making sure to get the sides coated too. Add the dough to the pan, and stretch it gently with your fingers. Allow it to rest and rise for 45 minutes. Then stretch it again and let it rest for 15 min while you prepare the other ingredients.
Preheat the oven to 425 F. Heat 2 T olive oil in a medium pan over medium heat. Sauté the kimchi until the excess liquid simmers out, and the kimchi begins to caramelize, about 6 minutes. Remove from the heat.
Mince the chives. Top the dough evenly with the warm kimchi, chives and sesame seeds, lightly pressing the toppings into the dough. Using your thumb, press about 20 indentations evenly into the dough. Drizzle with the remaining 2 tablespoons of olive oil.
Bake until golden brown, around 30 minutes. Let cool just slightly before transferring the focaccia to a wire rack to cool.
* A few notes…The recipe was inspired by chef Brad Deboy of
Elle
Restaurant in DC. He posted a picture the other day on Instagram of a loaf of bread he'd made with daikon kimchi. Upon searching the internet, I found a recipe for a kimchi focaccia on the Foodism website which had shared a recipe from the Everyday Korean cookbook. I started there, but prefer the focaccia-making method from the King Arthur flour website, so did a hybrid of the 2 recipes, with a lot of my own freestyling.
Due to being stuck in the house, I used what I had on hand. I didn't have 1 tryoe of kimchi, so I used 185 grams of
wildbrine
Japanese kimchi (which is light on ginger) and 45 grams Gnar Gnar Kraut from
Cleveland Kitchen
, which they compare to a kimchi (it has cabbage, bell pepper, jalapeno, sriracha and other ingredients). All of the kimchi liquid used in the dough recipe came from the
wildbrine
kimchi, which I drained for a bout 20 minutes. You could use scallions, which the original recipe I was looking at, called for. I didn't have any, but I have chives in my garden. The original recipe also calls for black sesame seeds, but I had white, and also chose to cut the amount in half.