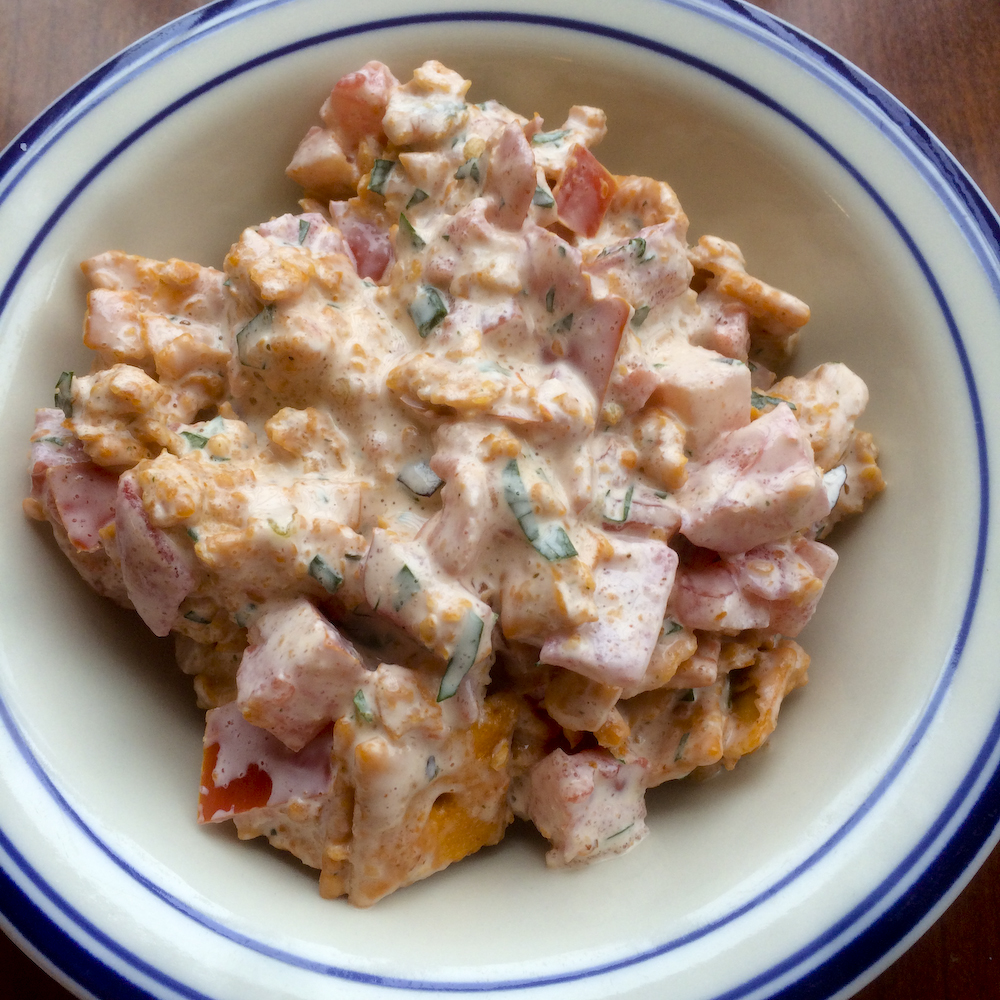 Last summer I was introduced to Georgia Cracker Salad in Garden & Gun Magazine. At first, it sounded strange. It was chopped tomatoes with mayonnaise and crushed up Saltine crackers. Yuck, right? Well, after trying it, I was making it almost daily until summer tomato season was over. It's kind of the poor-man's panzanella.
If I have a snacking weakness, it's Cheez-Its. I like all the flavors, but the green tabasco Hot & Spicy are my favorite, and I could easily eat a whole box. So, I'm not sure why I didn't think of using them last summer. By the time I wanted to try it, were were in the middle of winter. Not wanting to use winter tomatoes, but feeling the need to make it immediately, I tried it with tomatillos. Not good. Not good at all. So I've waited (not so) patiently. I started with the recipe in Garden & Gun as a base, and made some adjustments. Instead of just using parsley, I raided the herb garden and decided to also use fresh chives and nasturtium leaves. I also scaled it down to use one tomato, the perfect potion for one person.
Hot & Spicy Cheez-It Cracker Salad
1 medium tomato, preferably locally grown and/or heirloom
less than 1/3 cup Duke's Mayonnaise (I used 3/4 of a 1/3 measuring cup)
1 tablespoon chopped herbs ( I used 1 tsp parsley, 1 tsp nasturtium leaves & 1 tsp chives)
pinch of kosher salt
1/8 tsp granulated garlic
3/4 cup lightly crushed Cheez-Its (I used the Hot & Spicy, but try whatever you like)
Cut the tomato into a medium dice. Chop all the herbs. Mix everything in a bowl and let sit for a minute so some of the tomato juices can come out. Stir in the lightly crushed Cheez-Its and eat immediately. A dash of your favorite hot sauce would also be appropriate.
If you like what you see, please consider hiring me for an in-home dinner or cooking lesson. I run a personal chef business based out of Frederick, MD. Get more information here. Thank you.
Chris Spear
Like my Facebook page
Follow me on Twitter
Check out my Instagram
Watch me on Youtube