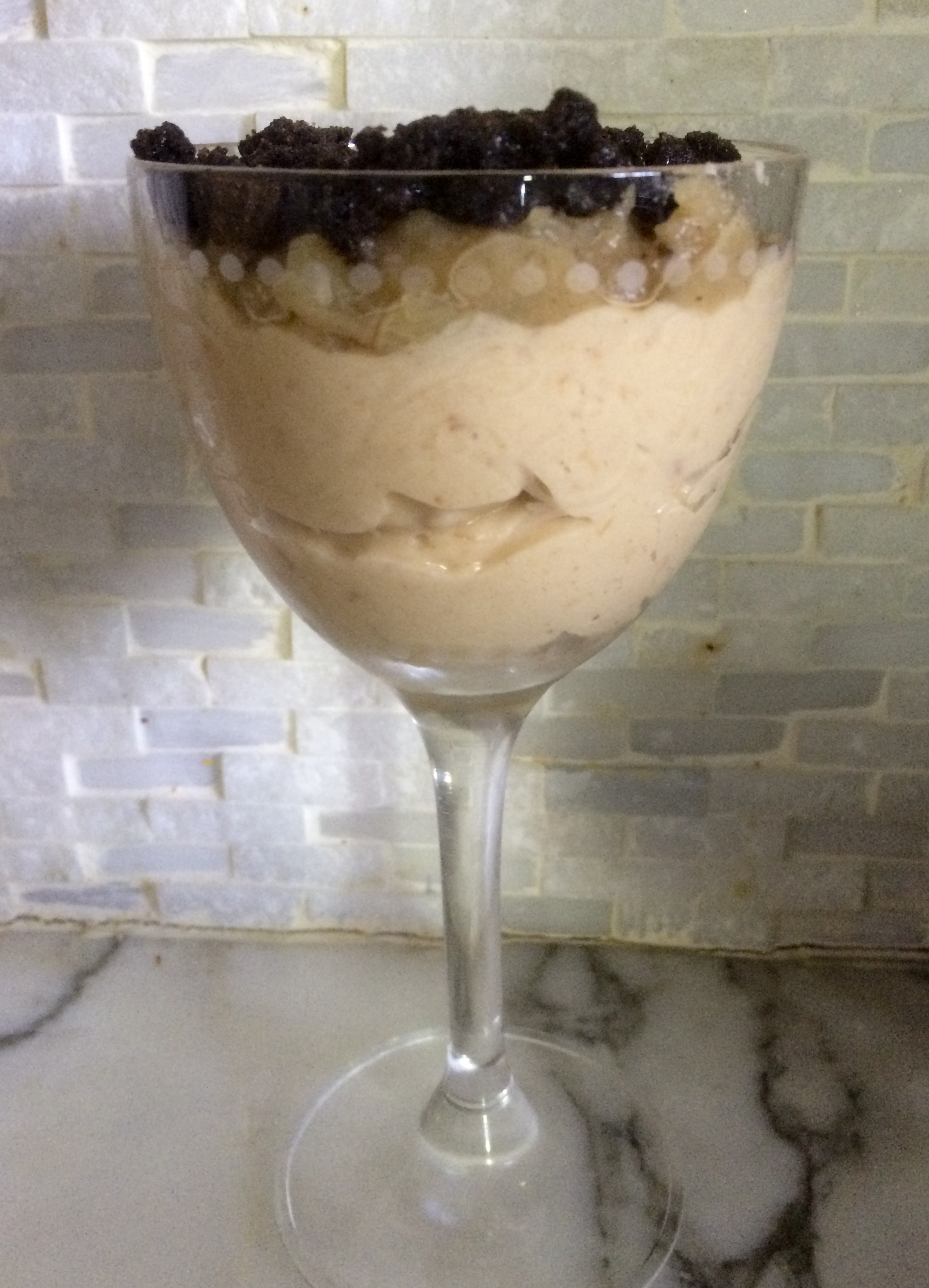 I first made this dessert almost 4 years ago, and it has remained one of my favorites. I'd heard that Elvis liked peanut butter, bacon and banana sandwiches. I'm not sure if there's any truth to that, but it's a good story. In my opinion, it's a winning combo that's missing only one thing…chocolate. I wanted to take those elements and make a Mexican-inspired dessert with them. This dessert has evolved over the years, and I've streamlined my processes a bit. I was really glad to bring it back for a dinner party last night.
The dessert starts with a peanut butter and bacon pudding as the base. Then I top that with a bananas foster made with tequila. You can use any you like. I prefer Espolon Reposado, mostly because it's what I have on hand for drinking. The final component is what I call Mexican hot chocolate crumble. If you've been visiting my site for a while, you know it's one of my favorite snacks to have on hand. You take Oreo cookies and grind them in a food processor (you can also crush them in a bag). Mix in melted butter until you have a sand-like consistency. Add cinnamon, cayenne or dried chipotle pepper and salt. Bake  the mixture for about 6 minutes at 350. Once it's cool, break it into clusters. One of these days I'll have an actual recipe for that. I just do it to taste, and know what the consistency should look like.
The real trick is the pudding. That one's staying with me for a while, mostly because I don't have anything close to a recipe for it.
If you like what you see, please consider hiring me for an in-home dinner or cooking lesson. I run a personal chef business based out of Frederick, MD. Get more information here. Thank you.
Like my Facebook page
Follow me on Twitter
Check out my Instagram
Watch me on Youtube