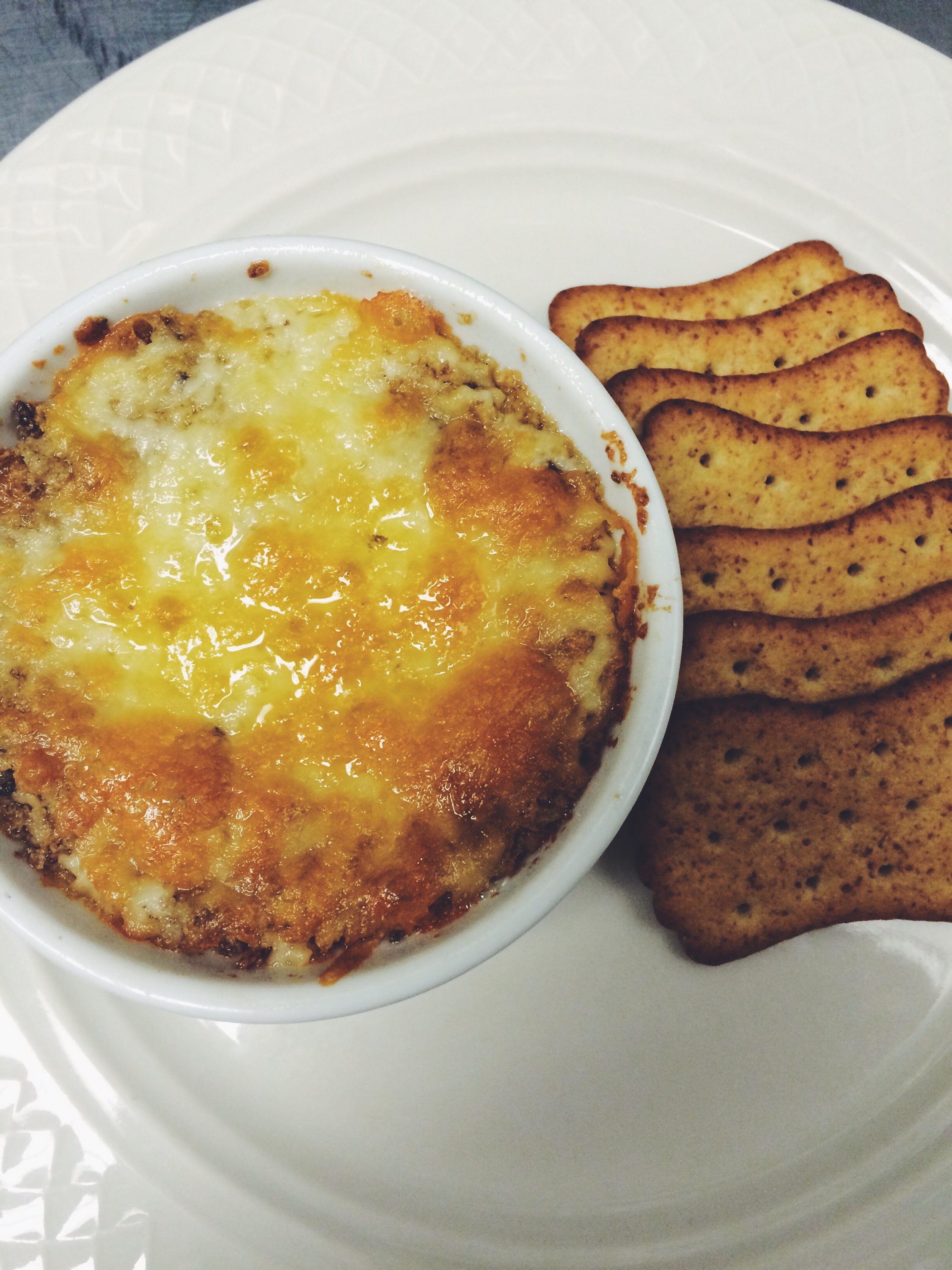 I posted a rough recipe for this back in February, but just got around to getting actual measurements. I made some changes from the initial version, and have come up with a recipe that I like.
Edit 4/10/17- It has come to my attention that McCormick, the producer of Old Bay, has recently "created" a recipe for scrapple dip and put it up on their website. Slightly different…Slightly. They say that you just need to change one ingredient to make a recipe your own.
Scrapple Dip
Serves approximately 16 (4 ramekins that serve 4 each)
INGREDIENTS
Scrapple, pan-seared and sliced 1 pound (455 g)
Cream Cheese, full fat 8 oz (230 g)
Mayonnaise, Duke's or Hellmann's 1 cup (220 g)
Extra-Sharp Cheddar Cheese, preferably white 1 cup (110 g) plus more for serving
Hot Sauce, (I prefer Frank's RedHot) (7 g)
Old Bay 1 ½ teaspoon (5.5 g) plus more for serving
INSTRUCTIONS
This recipe starts with cooked scrapple. Take your loaf of scrapple, slice it and cook it in a pan or on a flat-top to get the outside crispy.
While it's still warm, put the scrapple, cream cheese, hot sauce and Old Bay into a food processor. Blend until relatively smooth, about 2 minutes, scraping down the bowl as necessary.
Pulse in the cheddar and mayo, being careful not to over mix it.
Scoop out 2/3 cup (150 g) of the dip into lightly-greased individual ramekins. Pan spray is fine for this. Top with an additional 10 g of shredded cheddar and a pinch of Old Bay.
Bake in a pre-heated 350 degree F oven for 8 minutes until the cheese begins to bubble. If you overheat this, the oil may begin to separate. 8 minutes works great if you're going right from processor to oven. If you chill the mixture first, you'll have to adjust your cooking time. You could microwave the mix to bring it up to temp, and then broil the cheese (or use a Searzall hand-held broiler).
Serve with crackers, crostini or chips of choice. The dip leans on the salty side, so something like tortilla chips might push it over the edge.
Note: You can also make one large batch of this. Cooking time will vary.
If you like what you see, please consider hiring me for an in-home dinner or cooking lesson. I run a personal chef business based out of Frederick, MD. Get more information here. Thank you.
Chris Spear
Like my Facebook page
Follow me on Twitter
Check out my Instagram
Watch me on Youtube