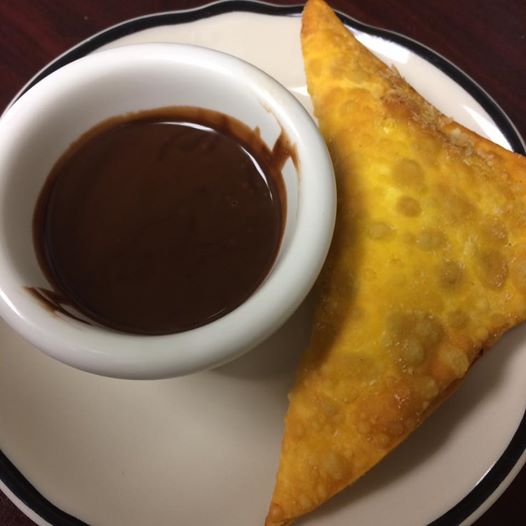 This was a 1st go at a new dessert. I wanted to take a basic bananas foster and turn it into a fried wonton with dipping sauce. Instead of bananas, I used some extra plantains that I had sitting around. There's no recipe, so if you want to make them, you'll have to wing it.
Saute plantains in butter. After about 5 minutes add brown sugar and a touch of cinnamon. Continue cooking until the plantains are soft, but not completely broken down. Add liquor of choice (I used grand marnier) and ignite. Cook off the alcohol. Allow the mixture to cool in the fridge for about an hour.
Take square wonton wrappers and place a dollop of filling in the center. Fold 1 corner across to make a triangle. Seal  with water. Once you have your wontons filled, fry them 4-5 minutes in 350 degree oil. Remove from the oil and dust with powdered sugar if desired.
You can use any dipping sauce you like. I made a dark chocolate & cinnamon ganache. What would you use? Let me know in the comments section.
If you like what you see, please consider hiring me for an in-home dinner or cooking lesson. I run a personal chef business based out of Frederick, MD. Get more information here. Thank you.
Chris Spear
Like my Facebook page
Follow me on Twitter
Check out my Instagram