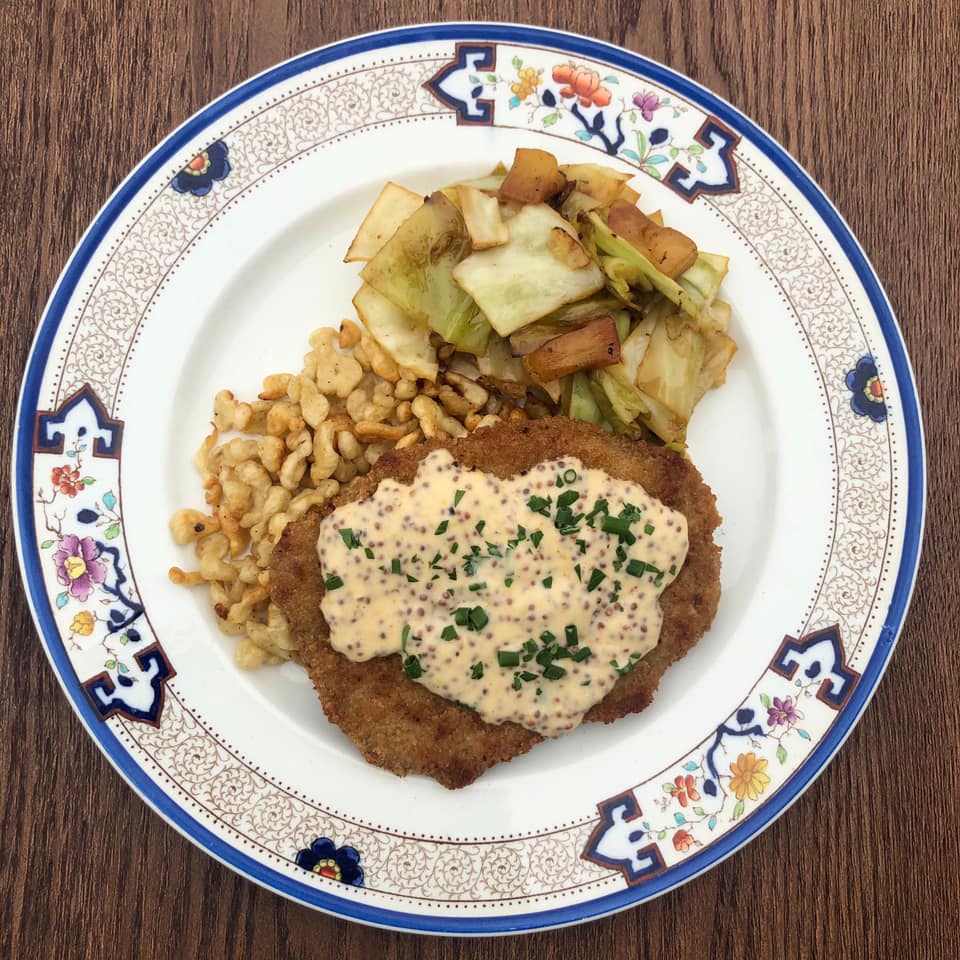 I started making this dish, almost a decade ago. It's one of my favorite dishes to serve during Oktoberfest, though it's also just a really great Autumn dish. It's extremely easy to make, so I didn't provide an actual recipe, but will give some guidelines.
Since there are so few ingredients, you really need to start with the best quality pork, preferable from a locally-raised heritage breed pig. For me, that means starting with pork from Autumn Olive Farms. Lately, I've been using their boneless pork chops which are butchered in-house at our local grocery store, The Common Market.
I take an 8-ounce pork chop and slice it horizontally, leaving all that delicious, healthy fat on there. Then the meat goes on a cutting board, is covered with plastic wrap, and pounded thinly. Next, I follow a traditional breading procedure. Dip the pork into flour, then whisked egg, and finally panko bread crumbs. The flour and panko should be seasoned, but not overly so. I like to use just salt and black pepper. The panko can be ground finer by giving it a quick blitz in a food processor if you like, but that's not necessary.
I think a lot of people worry about frying at home. This dish doesn't have to be deep-fried, but a good shallow fry is necessary. When I have excess pork fat, I'll render it, and keep some in both the fridge and freezer. For this dish, I like to blend some of the rendered pork fat with an oil that has a high smoke point. This adds a little bit of extra porkiness to the dish. The schnitzel usually is done cooking in five minutes, give or take.
If you're interested in a spätzle recipe, here's a link to the one I usually use. It's from Tyler Florence, and can be found on the Food Network website. I didn't make any adjustments to it at all.
You can make a fancy mustard cream sauce to go on the pork, but I keep it simple. I just heat up a little heavy cream with some whole-grain mustard, and adjust the seasoning with both salt and pepper as needed. I really want to let the pork shine. If anyone wants more guidance on how to make this dish, as always you can send me an email at Perfect Little Bites@gmail.com
How to Contact Me and Book a Dinner
If you like what you see, please consider hiring me for an in-home dinner or cooking lesson. I run a personal chef business that services a 70-mile radius from Frederick, MD. That includes Washington D.C, Baltimore, Northern Virginia, southern Pennsylvania, and Eastern West Virginia. Get more information here. Thank you.
You can also find me on Facebook, Instagram (photos and Threads), Twitter, TikTok, YouTube and on the Chefs Without Restaurants podcast.